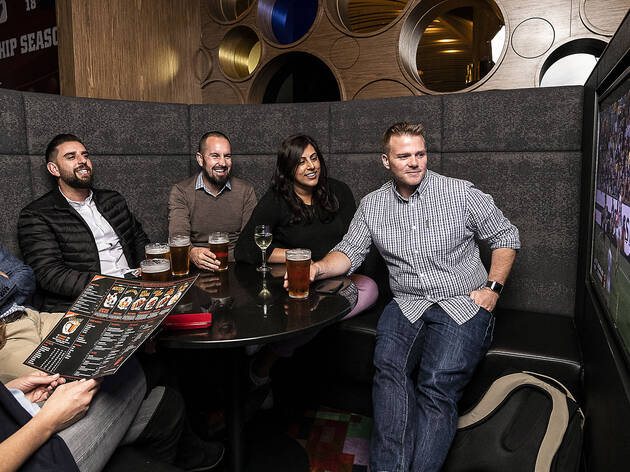 1/5
Photograph: Carmen Zammit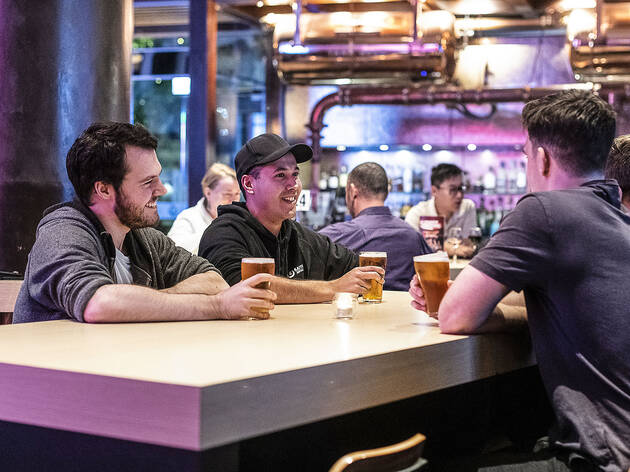 2/5
Photograph: Carmen Zammit
3/5
Photograph: Carmen Zammit
4/5
Photograph: Carmen Zammit
5/5
Photograph: Carmen Zammit
Upgrade your match day experience this footy season at these top venues
Seeing every footy match at one of these bars is almost as good as being at the game
No matter how big your TV or how clear your sound system, watching a footy match in a bar or pub is always going to be better. It's not just the easy access to burgers and beers, it's the atmosphere that comes with sharing the match with total strangers as well as your mates. It may not be the same as being at the 'G, but then it's not always possible to score tickets (not to mention when your team isn't playing at home). Always on the lookout for somewhere good to catch the match? Head over to Crown, where you're sure to have a ripper of a time no matter the outcome of the game.
There's a stack of great venues to grab a drink with your mates at Crown. The Pub and Sports Bar are the two that footy fans need to know about Why? Well, first of all there is no way you can match the quality and quantity of the screens at Crown. Each bar has multiple, mega-sized screens throughout the venue that make your telly at home look like a Nokia 3310.
The Pub features a total of nine screens while Sports Bar really smashes it out of the park with a whopping 20 screens to gaze at. Plus they screen multiple sports (as well as the day's biggest matches) so you can stay updated on every code. And because Crown takes its sports coverage seriously, you can even check out the live schedule so you know exactly what's screening.
Seeing the AFL at these venues also means footy snacks far tastier than frozen party pies and cocktail frankfurts. The Pub does pub grub and it does it well. We're talking parmas, pizzas and juicy porterhouse steaks all washed down with a big range of local and international beers. If you find yourself among the fans at Sports Bar make a meal of the bar snacks where spicy wings and burgers reign supreme.
Crown also do regular daily and monthly specials that make getting up off your couch even easier. During May that means you can get a $10 pint of James Squire 150 Lashes beer every day between 5pm and 8pm at Atrium, Lumia, Sports Bar and Jackpot Bar.

The Pub also lets you book booths where you get your own private screen and table service.
The Pub can be accessed from Crown's Clarendon Street entrance, while Sports Bar can be found on the level one gaming floor. For more information, visit Crown's website.

Crown practises responsible service of alcohol.

Best selling Time Out Offers