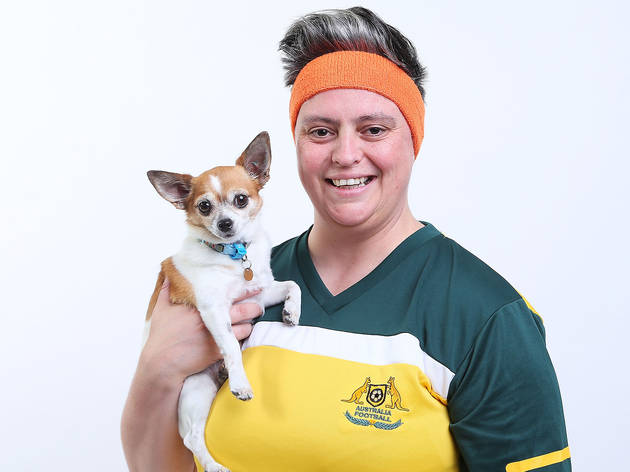 Geraldine Hickey on the benefits of not quitting your day job
"This notion that you have to suffer for your art is such a crock of shit"
Melbourne-based comedian and Triple R 'Breakfasters' host Geraldine Hickey is a bad liar – although she's getting better at it. "I used to be hell-bent on being completely honest in my material, but now I think my priority is to be funny. I've done all my big stories. [Now] everything I write starts from an honest place, but then it goes on a humorous journey."
"Big stories" is right: her 2006 show One Week in Paradise dealt with her depression and time spent in a psychiatric unit, and 2012's Turns Out I Do Like Sun Dried Tomatoes was about coming out (which she did publicity for the very first time on stage in 2011). These days, however, she talks about everything from Toby Abbott to not being able to get a haircut in a men's barber shop – but still in her trademark warm, conversational storytelling manner. Her new show Smithereens is about empathy, and the impact, both good and bad, of saying yes more.
In her decade-plus career, Hickey has learned a lot about looking after her own mental health as a comedian – which, she admits, is not always the healthiest career path. "For the last six years, I have been working in after-school care. Career-wise and mental health-wise, it's been the best. I think when people first start out in comedy, there's this notion that you're not a real comedian until you're doing nothing but comedy. And I did that, and it was the worst. The absolute worst. I was so poor, and you can't be creative when you're thinking about how you're going to pay your rent."
Having a 'day job' is particularly helpful during the Comedy Festival. "If you don't have anything else to do, then you sit there and you think, 'is anyone going to come and see my show tonight? Will they like it? Is this show any good? Why am I doing this?' You start googling your name, and you find reviews and you go 'they don't know what they're talking about' or 'this is shit' and it's the worst fucking spiral to be in. But for me, I have to get up and go to work. And working with kids – they don't give a shit what you do. I could've done a gig at the town hall the night before in front of 1,500 people and the next day I'll be hanging out with a bunch of eight-year-olds that just want you to make them a Vegemite sandwich."
"And I just gotta add," she continues, "having a half-hour walk every day does fucking wonders as well. Get some puppies and take them for a walk. Best advice. Get puppies."
Catch Smithereens (Mar 29-Apr 22) at the Melbourne International Comedy Festival.
Read more about the serious side of the funny business
A growing number of comedians are opening up to audiences about their dark and difficult experiences. We meet seven stand-ups tackling the mental health stigma and find out how they look after themselves in an art form where the personal is professional.
Make the most of the Comedy Festival
The MICF is in full swing, with hundreds of funnypeople vying for your comedy dollar. Here, in no particular order, we present our top picks of the festival. Whether you're into sharp political satire, keen observations or flights of surrealist fancy, there's something here for you.