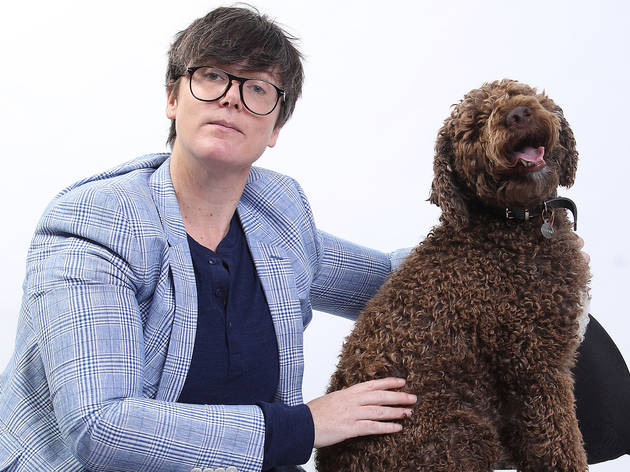 Hannah Gadsby on self-esteem, LGBTIQA rights and quitting stand-up
"Pain only gets worse if you try and fight it, so you go into it"
More than a decade ago, at the beginning of her stand-up career, Hannah Gadsby would kick-start the writing process by listing of all her faults on a piece of paper. "I felt like I had to explain myself, so I started thinking, what am I? I had such low self-esteem, so none of that was positive. And that's how I wrote a show: everything that was awful about me."
In her new show Nanette, the Melbourne comedian is addressing a time in her life when her self-esteem suffered the greatest blows – her formative years in rural Tasmania in the mid-'90s, when the entire state was debating whether to legalise homosexuality. "It was a really public debate, and I grew up in that. The fact that it was illegal to be gay wasn't as damaging as the active debate and just the horrific, constant chat. And when that started, all you heard from the mainland is how stupid and bigoted and backwards Tasmanians were. It was only until recently that I realised how fucked that was."
Last year, Gadsby became a powerful voice against the marriage equality plebiscite, comparing the damaging effects of the raging storm of opinions around homosexuality to her horrific experiences in Tasmania. "Every day I deal with the effects of anxiety and low-esteem," she wrote in a Facebook post last year. "It is not nearly as debilitating as it used to be but I don't imagine I will ever be truly free of it. Just imagine how brilliant I could have been if I hadn't been given such a shit show at such a vulnerable time in my life."
Very few (if any) comedians could write a show blending such searingly personal reflections with political turmoil (and make it funny); but Gadsby's razor-sharp social commentary, unflinching honesty and natural charm is why she is one of Australia's best-loved (and innovative) artists. Several years back, she even half-jokingly classified her work in a new sub-genre: "depression comedy".
Having also co-written and featured in Josh Thomas' acclaimed Please Like Me, there's no doubt that Gadsby is at the peak of her career. And yet, she is adamant that Nanette will be her last stand-up show. "I don't want to be self-deprecating anymore, because I've done a lot of work on this situation," she says, gesturing from her head to her toes.
"I think there's something a bit limiting about comedy," she continues. "I think it's a waste of such an accessible cheap art form to put on, to just limit it to jokes. It's stories I'm more interested in." So what's next for Gadsby? Well, right now she's converting her backyard cubby house into a Renaissance chapel – but she's also got a memoir and a new art history documentary in the works.
See Nanette (Mar 31-Apr 23) at the Melbourne International Comedy Festival.
Read more about the serious side of the funny business
A growing number of comedians are opening up to audiences about their dark and difficult experiences. We meet seven stand-ups tackling the mental health stigma and find out how they look after themselves in an art form where the personal is professional.
Make the most of the Comedy Festival
The MICF is in full swing, with hundreds of funnypeople vying for your comedy dollar. Here, in no particular order, we present our top picks of the festival. Whether you're into sharp political satire, keen observations or flights of surrealist fancy, there's something here for you.