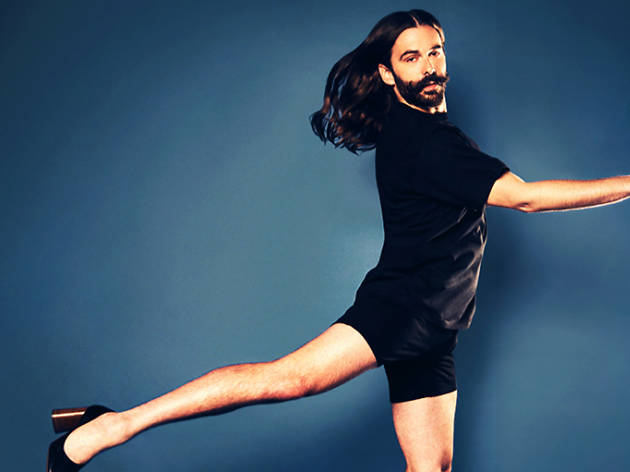 Time Out says
The breakout star of Queer Eye is coming to Australia for a night of fabulous self-empowerment
If Antoni is the pretty face of Netflix's Queer Eye, Bobby is the workhorse, Tan is the French tuck and Karamo is the bomber jacket/Dodgers cap combo, then Jonathan Van Ness is the heart of the show. The grooming expert delivers far more than a haircut and a skincare regime, digging into his own prodigious self-confidence to convince each subject that not only are they worthy, but they are more than capable of finding their inner fabulous. Van Ness bubbles over with infectious enthusiasm for the task ahead, while demonstrating the proper way to walk in heels and smashing sartorial gender expectations.
Van Ness shot to fame (among the cognoscenti of Game of Thrones, anyway) with his hugely popular and screamingly funny 'Gay of Thrones', a Funny or Die recap web series. The concept: Van Ness (or JVN, as he's known to his 4 million Instagram followers) invites a different comedian into his hairdresser's chair for a style and a bit of a chat about that week's Thrones. If you haven't seen the series, it's definitely worth revisiting.
Van Ness has recently taken up gymnastics and figure skating (and has become friends with Olympic figure skater Michelle Kwan), skills he enjoys showing off on his relentlessly positive Instagram account. He's also written a memoir about self-confidence and self-care, called Over the Top, and hosts popular podcast Getting Curious.
He's headed to Australia in February for an evening of positivity, self-love and maybe even a gymnastic move or two. Van Ness is calling the tour Road to Beijing, as he's hoping to lift his figure skating game enough to represent the US in the next winter Olympics. Tickets are on sale now.
Details