Laura Davis: Ghost Machine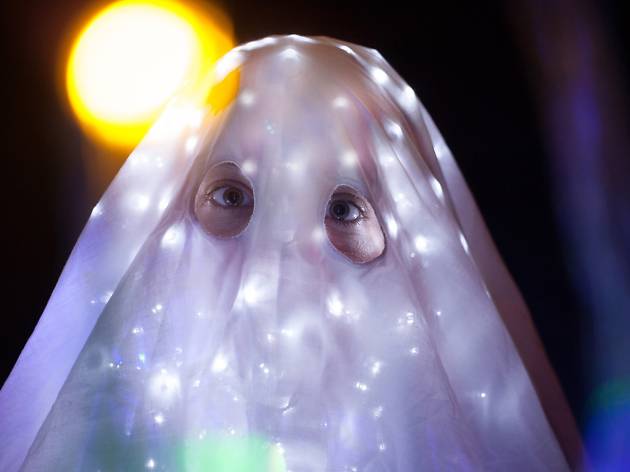 Laura Davis is brash, bold, screamingly funny – and dressed head to toe in an Ikea bed sheet
It is somewhat disconcerting to be ushered into a back room of Melbourne's tchotchke-chic Butterfly Club at 10pm to be greeted by a ghost. Not one of those CGI translucent spectres, either, but a good old-fashioned sheet-with-eyeholes ghost, who gestures, dances and does some really excellent sight gags as she waits for the audience to file in. I temporarily wondered if this was going to be an hour of silent comedy – a bold and hard-to-pull-off brief – but no, the woman behind the sheet, Laura Davis, has plenty to say.
Why the queen size fitted? As she explains, "people would rather listen to the political opinions of a ghost than a woman". Plus, she says, audiences don't like to hear female comedians talk about their bodies. "But if you manage a clever disguise, like, say, a ghost, and no one knows you're a woman under here..." The bawdy humour that follows has the audience clutching their sides with laughter.
Davis is a brash, bold, laugh-a-minute kind of comedian. In Ghost Machine she tackles some of life's difficult questions – if we're made of atoms and atoms are mostly nothing, are we really made of anything? What does it mean to be alive? What keeps us going? – and she does it with a caustic wit and dramatic flair. Some of her stories and arcs trail off without really leading anywhere, but everyone is having too much fun to care. A consummate professional, Davis has the audience eating out of the palm of her hand – er, sheet.
Need more laughs? See our ultimate guide to the Melbourne International Comedy Festival.