Laura Davis on the healing properties of comedy
"Everybody in the room goes 'Oh, me too! I didn't know we were allowed to talk about it!'"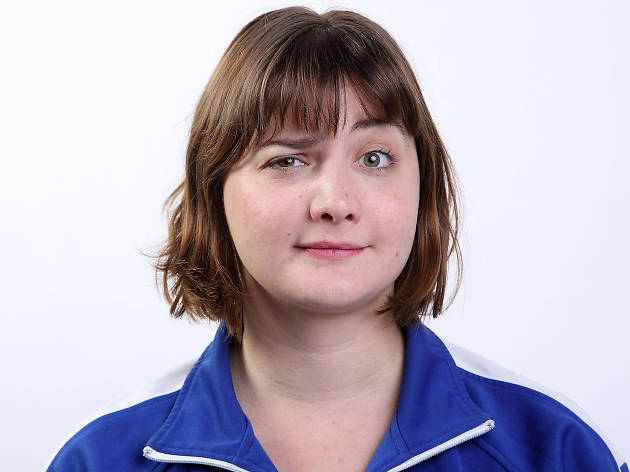 "Because you're kind of not," adds Laura Davis, "unless you're making it particularly hilarious and shiny and easy to digest, which is kind of the job you have to do."
The Perth-born, Melbourne-based comedian describes her experimental approach to comedy as an "almost medicinal approach… trying to think about what people might need". In her last three concept shows, Davis has attempted to push the boundaries of where comedy is allowed to go – and what performer-audience relationship might look like. The first involved telling the story of an abusive relationship while forcing the audience into an abusive relationship with her, the second was an existential crisis performed live by a ghost, and the third was about the bravery in vulnerability, performed blindfolded on a ladder.
The result has been a trio of daring, dark and somewhat improvised shows that dive into dangerous waters, but always carry audiences to higher ground. Her new show, Cake in the Rain, is about "heartbreak and the end of the world and how we tend to find more meaning in negative experiences than what we do in positive ones", and will involve audience input ("not crowd work; an easy honest conversation").
"My goal has always been to speak to the audience as though I'm speaking to one person I know very well," she says. "I always thought if I could write a really good joke about stubbing your toe and tell it enough times, the next time people stub their toe it wouldn't be quite as bad – they'd say, 'ah-ha, I remember that joke!' I don't have a joke about stubbing toes but I do have them about existential panic and heartbreak and loneliness. And that's what I wanted – if I could write some really good jokes about feeling lonely, then everybody who's feeling lonely could go, 'me too!'. That's been really lovely. It sounds pompous to say, but I get a lot of emails saying that it's changed the way they thought about things, or really helped."
Looking back at her decade-long career, Davis finds that comedy has helped her, too. "I find it comforting. I suffered from huge amounts of anxiety when I was growing up and weirdly enough stand-up was always the thing that I could do. It seems counter-intuitive, but to someone with anxiety, being able to have a conversation where you control every single of it and how you're perceived is – on a yucky level – what appealed to me. And it has changed the person that I've grown up to be."
See Cake in the Rain (Mar 29-Apr 22) at the Melbourne International Comedy Festival.
Read more about the serious side of the funny business
A growing number of comedians are opening up to audiences about their dark and difficult experiences. We meet seven stand-ups tackling the mental health stigma and find out how they look after themselves in an art form where the personal is professional.
Make the most of the Comedy Festival
The MICF is in full swing, with hundreds of funnypeople vying for your comedy dollar. Here, in no particular order, we present our top picks of the festival. Whether you're into sharp political satire, keen observations or flights of surrealist fancy, there's something here for you.
More to explore