Ovariacting: A Period Drama review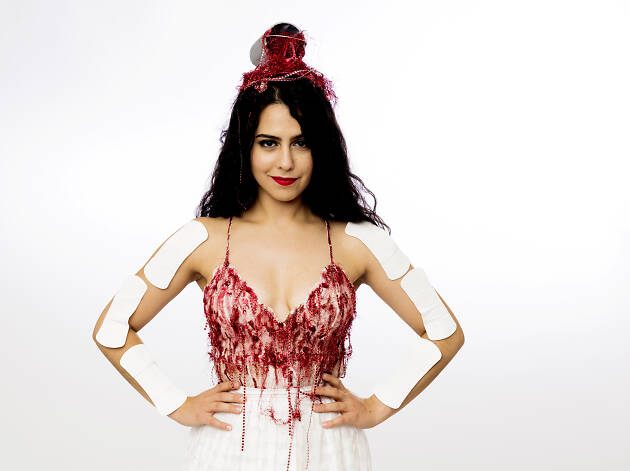 Time Out says
Friendly warning! We're working hard to be accurate. But these are unusual times, so please check that events are still happening.
This cabaret by a menstrual activist wants us to throw off period shame
Most of us are pretty reluctant to talk publicly or in too much detail about periods. As with much that happens with our bodies – and specifically women's bodies – there's significant societal shame attached.
As "menstrual activist" Jamie Boiskin says in her cabaret for Melbourne Comedy Festival, the mere mention of a period is enough to make some faces scrunch up like a baby's after a mouthful of broccoli. So she's hoping to smash through that stigma with the help of her pianist and activist protégé, Thomas Bradford (who is earning his literal badges in bleeding), and a tampon and uterus, played by Alice Albon and Louise Cumming in some unusual, oversized character costumes. (Although they share more in common with contestants from RuPaul's Drag Race than a regular mascot.)
At first, Boiskin tells us about the importance of releasing women from period shame and providing instruction on how we can help. But it soon becomes clear that the shame she's talking about – and the ignorance of those who don't menstruate – has potentially devastating consequences.
There are some bumps along the way, and not every gag and musical parody lands as well as you'd hope (although a period-inspired version of Flo Rida's 'Low' is pretty funny). But Boiskin and her co-stars are charming enough to overcome many of the problems in the writing.
You might not be quite ready to shout about your period from the rooftops after 60 minutes with Boiskin, but you're probably less likely to make that broccoli baby face the next time somebody mentions their heavy flow.
Details