Ruby Wax on stress and mindfulness
"It used to be length of genitals, now it's 'look how stressed I am'"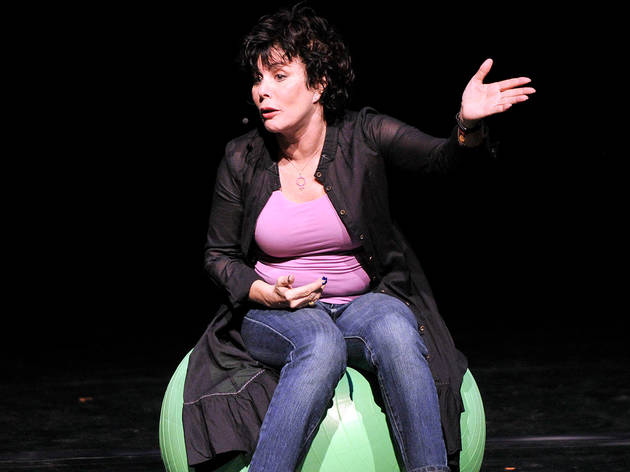 It is not an understatement to say that Ruby Wax – veteran American/British actress, comedian, academic and author – is a pioneer when it comes to talking about mental illness and making it damn funny. The UK-based comedian became the self-described "poster girl for mental illness" nearly a decade ago, when posters for British charity Comic Relief appeared in Underground stations across London saying "one in four people have mental illness, one in five people have dandruff. I have both." From there, Wax wrote a hugely popular show about the at-times debilitating depression that she had suffered from in silence for most of her life. Since then, she has worked as a mental health campaigner and gained a master's degree in in mindfulness-based cognitive therapy from Oxford University.
But Wax is quick to mention that her new show, Frazzled, is not about mental illness. "I don't use my disease again and again – it better be fucking good if you're going to talk about your mental illness, that's all I'm saying.
"I'm talking about the human condition. How we're living now. We should having the time of our lives, but we're frazzled. It's not stress, because we need stress. It's the thinking about stress."
"People say, 'oh my god I'm so stressed, I'm run off my feet. What the hell does that mean – you're running around on your ankle stubs? It's like a badge of honour… but the statistics are really bad. In the past, nobody ever died of stress. And now we are." Frazzled is based on her 2016 book, A Mindfulness Guide for the Frazzled, which offers a way out of the modern condition of 'frazzle' with a six-week course in mindfulness based on her Oxford studies.
As for any link between comedians being more likely to experience mental illness (the sad clown cliche is a persistent one), Wax disagrees. "No, there's no link. Because one in four people have this disease, and I would say that not that many people are funny. It has nothing to do it; it's genetic and it's upbringing."
Catch Frazzled (Mar 30-Apr 2) at the Melbourne International Comedy Festival.
Read more about the serious side of the funny business
A growing number of comedians are opening up to audiences about their dark and difficult experiences. We meet seven stand-ups tackling the mental health stigma and find out how they look after themselves in an art form where the personal is professional.
Make the most of the Comedy Festival
The MICF is in full swing, with hundreds of funnypeople vying for your comedy dollar. Here, in no particular order, we present our top picks of the festival. Whether you're into sharp political satire, keen observations or flights of surrealist fancy, there's something here for you.