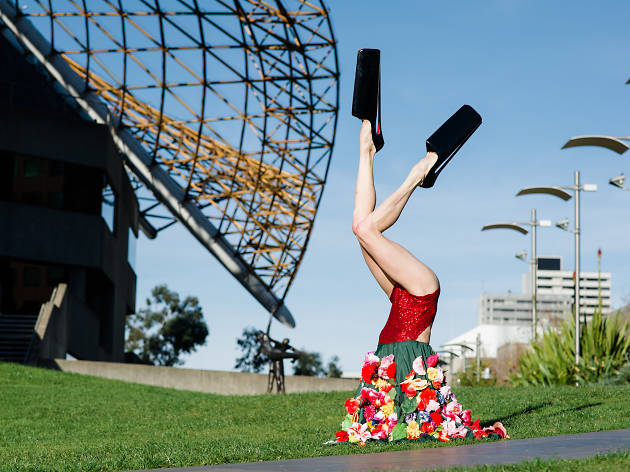 See world-class dance at the Australian Dance Awards
Join in a celebration of the country's finest performers at the Australian dance industry's night of nights
For the first time in seven years, Melbourne will host the Australian Dance Awards: the biggest event in the dance industry calendar. Presented by Ausdance Victoria and Arts Centre Melbourne, this year's awards night (which happens to be its 20th anniversary) is set to be bigger than ever, with 12 categories and eight performances by some of the country's best dance companies. You don't have to be part of the dance industry to attend – think of it as a chance to see a selection of world-class performers across a wide range of dance styles, from ballet to street dance.
Your hosts for the evening are none other than Yana Alana, the cabaret diva creation of Melbourne artist Sarah Ward, and prolific dance performer Benjamin Hancock. As the outrageous, hilarious Yana, Ward has won a Helpmann and ten Green Room Awards. She has also performed with Circus Oz, Finucane and Smith and is in the award-winning Dee & Cornelius play SHIT. Hancock is a performer who works with many of the country's leading choreographers and dance companies, including Lucy Guerin and Chunky Move.
Throughout the night, you'll be treated to performances by the Australian Ballet (who will perform an excerpt from the stunning Sleeping Beauty); Stephanie Lake Company (performing an excerpt of Pile of Bones) and Raw and Rugged Dance Crews, who are the current national champions in street dance.
Another highlight of the Australian Dance Awards is finding out who will take home the coveted awards. Categories range from 'Outstanding Performance by a Company' to individual awards for male and female dancers. You can check out all the nominees on the ADA website.
The Australian Dance Awards will take place at Arts Centre Melbourne on Sunday September 24, 7pm. Tickets range from $38-$50. Book online or call 1300 182 183.