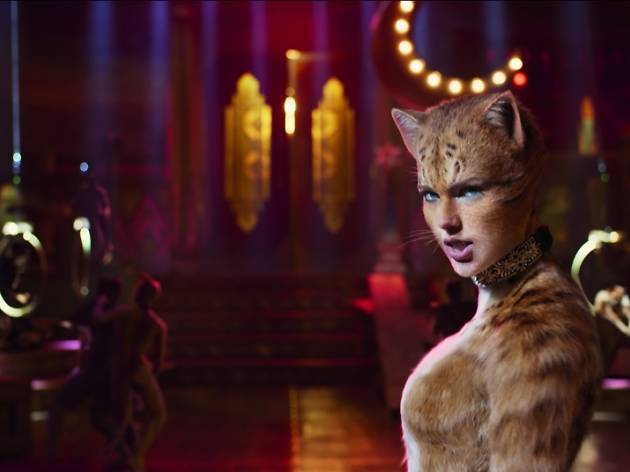 Six movies to see on Boxing Day 2019
Looking for something to do after Christmas? Try these
The post-Christmas movie serves multiple purposes – heat relief, child minding, time killer, desperate attempt at family bonding – and this year there are six movies being released, hitting most of the demographics. (There are also these films already in cinemas, including the latest Frozen and Star Wars opuses.) Click through each one to read Time Out's full reviews and to find today's cinema times.
Why not watch them at one of Melbourne's best outdoor cinemas?
Oscar-winning director Tom Hooper (The King's Speech) transforms Andrew Lloyd Webber's record-shattering stage musical into a movie, and if the spectacle of well-known stars prancing around dressed up like felines isn't enough to get you excited then you must be tired of life itself. Whether it's filmic catnip or a tray of litter, how can you possibly resist?
New Zealand's gifted Taika Waititi has made a movie about an adorable Hitler Youth whose imaginary buddy is Adolf himself (Waititi plays Hitler). Breathtakingly risky but worthy under scrutiny, Jojo Rabbit features a strutting kids-camp counselor (Sam Rockwell), a vicious secretary (Rebel Wilson) and a towering geek of a Gestapo agent (Stephen Merchant), all of whom nail their comic parts with po-faced perfection; best of all is Scarlett Johansson as Jojo's spirited mum who is hiding a Jewish girl (Thomasin McKenzie) in their house.
Real-world characters from the previous film (along with some newbies) re-enter the Jumanji videogame to become the avatars played by Karen Gillan, Jack Black, Dwayne Johnson and Kevin Hart. Jake Kasdan again directs, and the results will hopefully again balance action with body-swap laughs.
Céline Sciamma is one of the most exciting young French filmmakers around and with Portrait of a Lady on Fire she has crafted a powerfully original story of art and love, almost entirely set on a Breton island in the 18th century. Read Time Out's five-star review.
Whenever family life in Newcastle looks to be coming together for Ricky (Kris Hitchen), a delivery driver for a private parcels firm, and his wife, Abby (Debbie Honeywood), a carer, it's the world of work that crushes them and pushes them ever closer to breaking point. The latest effort from veteran UK director Ken Loach is a scathing indictment of the gig economy and one of his all-time best films.
Photograph: L Champoussin/3B Bunbuku MiMovies
After the global success of Shoplifters, Japanese auteur Kore-eda Hirokazu has made a dramedy that pairs French acting icons Catherine Deneuve and Juliette Binoche for the first time, as a celebrated actress and her estranged daughter whose reunion offers an opportunity to either repair or irrevocably fracture their relationship.