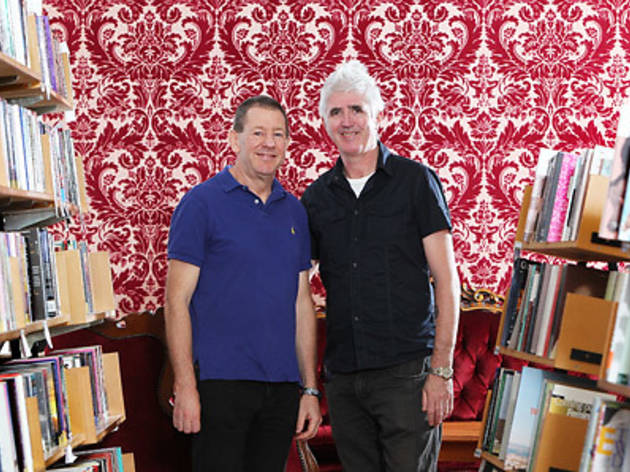 Fitzroy's Hares & Hyenas is a bookshop that refuses to be pigeonholed as queer... or as a bookshop
Having been in operation for over 20 years, you'd expect Hares & Hyenas to be a well-oiled machine… but this humble-looking bookshop is more like a super power-packing transformer. Bookshelves stuffed with fiction, biographies, humour, photography, erotica, religion, gender, coming out, fanzines, health and educational tomes can be wheeled away so that the room is adapted into a venue with theatre seating, a stage, and a lighting and sound system. Whatever mode it's in, there's a fully licensed bar and café, and an exhibition lining the walls at all times.
Hares & Hyenas is the project of Rowland Thomson and Crusader Hillis, who met at Melbourne University in 1975 and became partners a few years later. In the 1980s, Hillis owned an art-house video shop in Elwood, while Thomson co-owned Dizzy Spinners on Brunswick Street – an early incarnation of the current Polyester Records.
In 1991 they joined forces to open Hares & Hyenas, which moved all over Melbourne before settling in Johnston Street's Spanish quarter, where they've been made to feel welcome. "The changes in 20 years are fairly staggering," notes Thomson. "People only used to come in wearing sunglasses."
It's now become a hub for not only the queer community, but anyone interested in socialising in a literary setting. Hares & Hyenas plays host to two book groups, a stitch'n'bitch, ButchFemmeTrans, Rainbow Girls and Rainbow Guys, to name but a few regular meet-ups, and has put on 350 spoken word events. "We also did 20 events at the World Gay Games in Sydney and we've done lots of events at Sydney Mardi Gras," says Hillis. "We do a season called Word is Art every year for the Midsumma Festival." At the 2012 Midsumma, they threw the wildly successful Queer 3000, with authors Sophie Cunningham, Kim Westwood, Christos Tsiolkas, Dennis Altman and Neal Drinnan reading work about Melbourne. Tsiolkas, in fact, launched his first book, Loaded, at Hares & Hyenas back in 1995.
Perhaps the signature event of the shop is Rapid Fire: 12 writers talking for six minutes each ("we're draconian – after six minutes we cut off the microphone and push them off the stage"), which forces them to refine their work into punchy brilliance.
Hares & Hyenas provides a community service in more ways than one: they're also the only stockist in Australia of all the books on donor insemination, in terms of educating adults and kids alike. "We've got everything based around reproductive technology," says Thomson. "Whether they're families that have got double donations of egg and sperm, or embryo donations, or single mothers with IVF, we've got all the books to help."
Venue name:
Hares & Hyenas
Contact:
Address:
63 Johnston St
Fitzroy
Melbourne
3065

Opening hours:
Mon-Wed 10am-7pm; Thu-Sat 10am-7.30pm; Sun noon-6pm