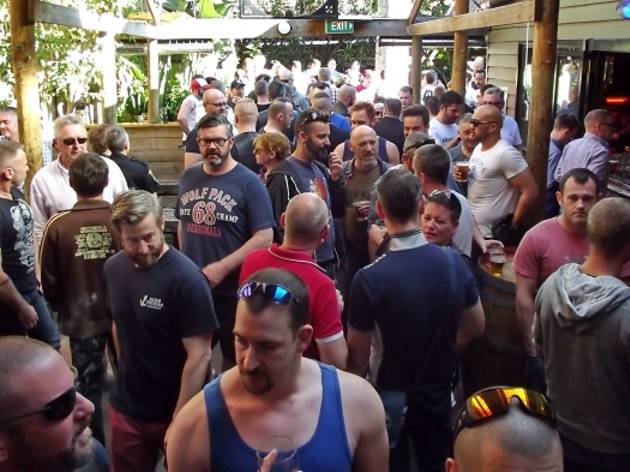 Time Out says
For 35 years, it's been the pub where a bloke can be a bloke, and a bear can be a bear
Since 1980, the Laird Hotel has been a place where gay men can be themselves, free from judgment. Time Out Melbourne has always been an inclusive publication, and for the 2015 Pub Guide, we thought the Laird deserved recognition as a place offering a classic pub experience to a specific community. Other gay bars have come and gone, but in the age of Grindr, the Laird has adapted to stay relevant.
You can play pool or trivia, drink at the front bar, dance in the back room, and stand around chatting in your undies – all in the same week. With that comes the genuine community that defines good pubs and that you don't get with digital hook-ups. Publican Brett Lasham is serious about supporting that community too, partnering with the Victorian AIDS Council and Living Positive Victoria to host events and provide information on men's sexual and mental health, and raising tens of thousands of dollars every year for the David Williams Fund. According to Lasham, the Laird is also the only pub with a VCAT approved men-only policy. It's an important distinction from other gay venues, which often attract straight women, and in turn straight men.
Like all good pubs, the Laird has a comfortable front bar perfect for a quiet beer, with Carton on tap and packets of crisps hanging at the ready. But on match days the footy's on loud, and the big screen comes out for important games. Where else can you cheer on your squad in nothing but a pair of leather undies? The Laird is the spiritual home of Melbourne's bear and leathermen sub-cultures, and has a reputation as a place where you might not be welcome unless you look like a lumberjack. But the punters have become increasingly diverse in recent years, and even back in the day, you didn't have to look like Merv Hughes to fit in. The epic beer garden, meanwhile, is shaded by the green of banana palms and a huge old gum tree, complete with resident wildlife: they must've heard it was cool to be furry here.
Details
Address:
149 Gipps St
Abbotsford
Melbourne
3067

Transport:
Nearby stations: Collingwood; North Richmond; Victoria Park
Contact:
Opening hours:
Daily 11am-11pm