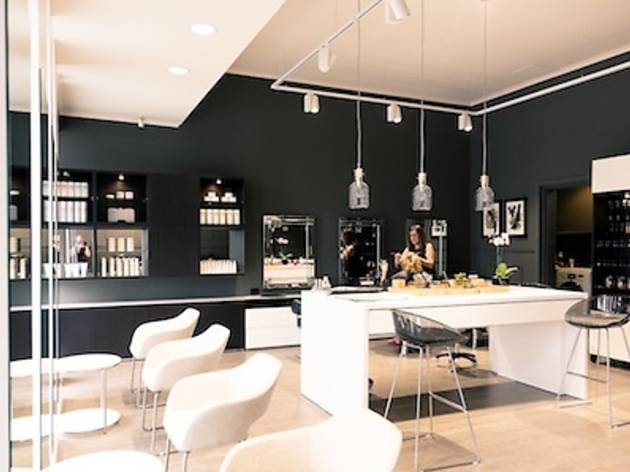 Time Out says
Melbourne's stylist to the stars opens her own one-stop salon
If you used to wake up to Bert Newton's smiling face on Good Morning Australia; if you knew all the catchphrases by heart on Rove Live or if you gleaned all your life wisdom from the Circle, then you've witnessed the work of Antoinette Bekos.
For almost two decades, Bekos was the head of hair and makeup at the Ten Network. Less than two months ago, she opened her own hair and makeup salon. Now open for business, she aims to treat each of her clients to the celebrity treatment.
Walking into AB Pro Salon, you might need a moment or two to adjust. In place of surgery-white lights and stiff waiting chairs, the room is lit like a warm lounge room, and is filled with elegant furniture set to a pallet of cream and dark brown.
"I didn't want it to be sterile," says Bekos. "And I love New York, so it has that New York deco feel to it." The space, designed by Vanessa Lekkas from Design Advocate, features an inviting centre table filled with makeup products. The hair station and mirrors sit at the back wall. If you walk in just for a haircut, immediately you're thinking about the joy of getting your makeup done, too.
Offering the full hair and makeup package is Bekos's specialty. "I found that a lot of people want their hair and makeup done just to go out," she explains. "Here, everything is in one place."
Like any expert, Bekos loves sharing her knowledge. In fact, she runs makeup lessons to people of all skill levels and ages. She invites clients to bring in their makeup bags, and will advise on how best to make use of what they've already got. Sounds unusual? That's because it is.
"I'm not the type of person to say, 'you should be using that'. I've got my own brand, but it doesn't suit everybody," she explains. While department store makeup counters may redeem their products for the cost of the makeover, Bekos offers a place where clients won't feel like they're being convinced to buy anything. "My salon is about my art and what I've done for 20 years. I'm here for the experience."
If you're lucky, part of the AB Pro experience might be hearing a story of two about her days as a stylist to the stars. "I used to look after Hugh Jackman, before he was 'Hugh Jackman'," she says, laughing. "But one day he came in with John Travolta! I was sitting at the table having lunch, and Hugh was just kicking me under the table, saying 'close your mouth'!"
Top five: hair and makeup salons to get you event-ready
Rubi Hair
Hair is everything here at Rubi. The team of experienced stylists love to create transformative looks with every colour you can imagine, hair extensions, keratin treatments and Yuko thermal hair straightening. They also offer luxurious makeovers from qualified makeup artists. Prices are competitive, and the team will tailor a package to suit you. Windsor.
Rare Earth Hair
The folks at Red Earth use naturally-derived AVEDA hair products to give you the healthiest and most environmentally-friendly hair and make-up treatment you've ever had. Entering the relaxing salon the first step of the journey, which involves a consultation, cleanse and condition – and that's before the makeup even comes on. Prahran.
Studio 2
At this appointment-only beauty salon, sisters Renee Chard and Emma Roberts (not that one) are committed to providing contemporary beauty styling for special occasions. Makeup artist Roberts has established her reputation as an expert in skincare – after all, glowing skin is the canvas to true beauty. Chard takes care of all things hair, and specialises in creative new styles for her clients. Extensions, balayage, foils, intricate up-dos: it's up to you. St Kilda.
Miss Fox
With a collective 30 years of experience in the spa and wellness industry, the Miss Fox team have collaborated with some of the most elite product houses, spa groups and hotel chains around the world. With custom-built nail bars and lounges, Miss Fox are ready to primp you from the top of your head to the tips of your toes. Melbourne.
Bouquet and Garter
As you might have guessed from the name, this hair and beauty salon specialises in weddings. Their team of professional make-up artists and hairdressers are primed for brides of all tastes and personal styles. But it's not all about bridal: treat yourself to a top-shelf pamper session (the make-up artists only use MAC, Napoleon and Chanel) before your special occasion or duck in for a wax or spray tan. Fitzroy North.
Details
Address:
104 Chapel St
St Kilda
Melbourne


Contact:
Opening hours:
Tue 10am-5pm; Wed-Thu 10am-8pm; Fri 10am-5pm; Sat 9am-5pm
Users say