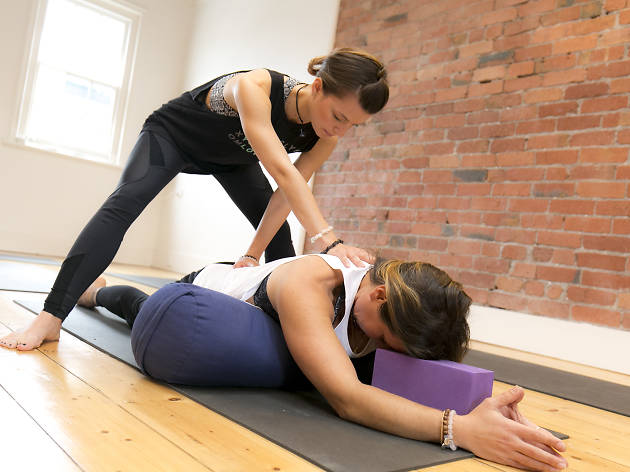 Australia's first massage yoga retreat is happening this August
Work the kinks out of your body and soul at this four-day retreat
Modern life can be pretty hectic sometimes, especially when you live in a big city. If your usual yoga session (or let's be honest, 3am ice cream and Netflix binge) just isn't relaxing you anymore, it might be time to roll out the big guns.
Luckily Australia's first Massoga Massage Yoga retreat is happening in Victoria this August. Lead by Massoga founder Wallis Murphy and three other facilitators, the Massoga Massage Yoga retreat is four-days of blissful relaxation. Located in the wilderness just outside Hepburn Springs, the retreat isn't your ordinary yoga getaway.
Over the course of the retreat guests will be guided through Massoga Massage Yoga – a yin yoga and massage hybrid developed by Murphy over two years ago. The combination of gentle movement and human touch is designed to let participants enter a deeper state of relaxation than in a traditional yoga class.
In addition to the Massoga Massage Yoga sessions, guests at the retreat will take part in Turkish baths, meditation, silent nature walks, private massages, slow flow yoga and an essential oils workshops (where you'll learn how to concoct your own relaxation blend). Meals and snacks are included, with the nourishing vegetarian menu designed by Spade and Blade.
The Massoga Massage Yoga retreat will feature downtime as well so you can explore the beautiful Hepburn Springs surrounds and let go of all the tension in your body. The retreat is designed for novice, intermediate and advanced yogis – because everyone should be able to access this level of R 'n' R.
The Massoga Massage Yoga Retreat takes place over four days from Thursday August 23 to Sunday August 26. Book online now and get ready to unwind.