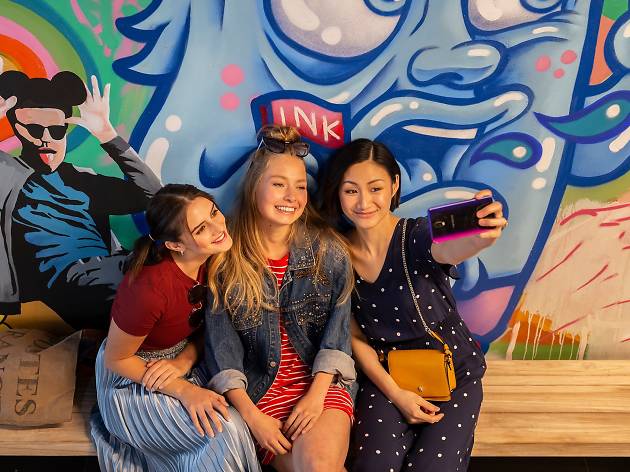 1/4
Photograph: Supplied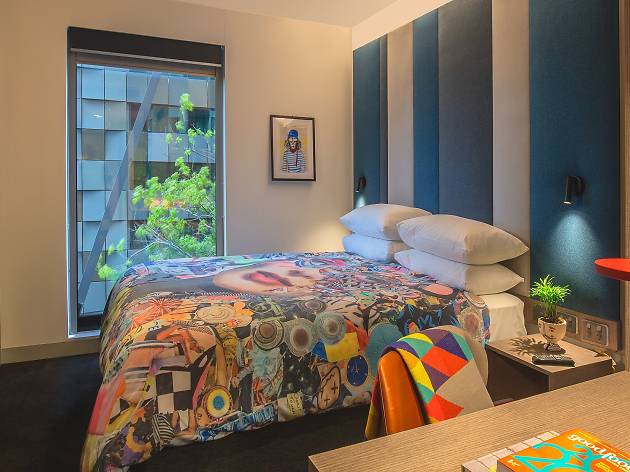 2/4
Photograph: Supplied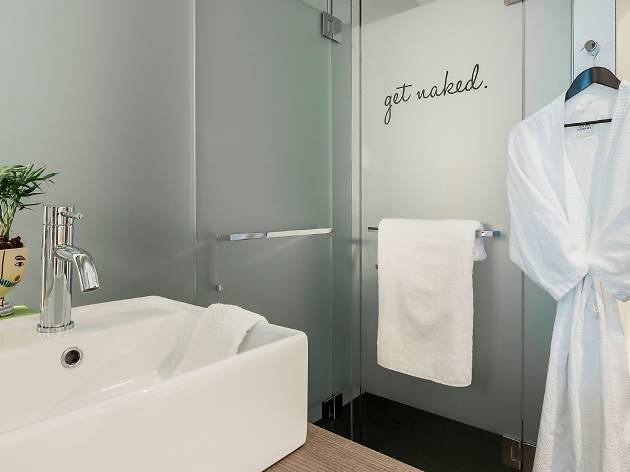 3/4
Photograph: Supplied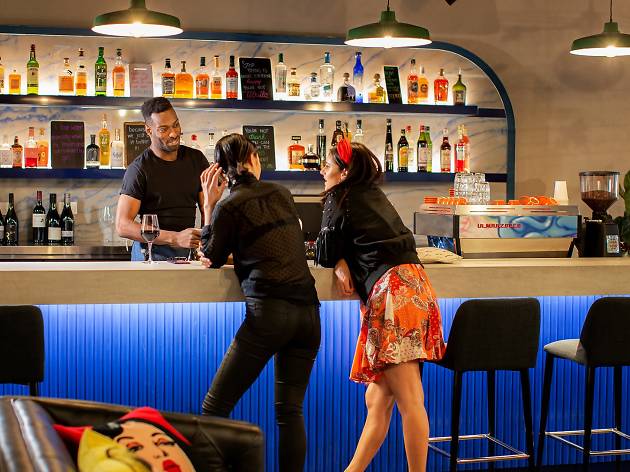 4/4
Photograph: Supplied
Time Out says
Funky and fresh, Ink Hotel is an affordable way to stay on the city's fringe
What if budget and mid-range hotels didn't have to be beige places, with plasticky pink blankets, plastic-wrapped glasses, and *that* floral still life above the bed? What if they could be fun, funky, fresh places, with hip, attentive staff, street art on the walls and colourful bedspreads that are works of art in themselves? What if instead of a sad kettle in your room and individual sachets of instant coffee you could get barista-made, real coffee for free, any time of day? And what if that coffee was not only good, but also good for the world?
That's the idea behind Ink, on City Road in Southbank. Ink is not an expensive hotel (prices start at $119 for the 'pocket' room, which is well named at just 16 square metres), but it is a fun space where you'll actually want to spend time. Instead of beige walls, colourful artworks by New York-based Australian artist Brolga hang in the rooms. The doona covers are a riot of colour, which makes bedtime not only comfortable (though boy, are these beds comfortable) but also fun. Coffee is available all day, every day, free for guests, and it's made by real baristas in the hotel lobby until 11pm.
Prefer your coffee in your room? The hotel offers complimentary Huskee cups, made from the husks of coffee beans, to borrow for as long as you stay at Ink. So you can also get a barista-made coffee to take with you out on the town. Just return the reusable cup when you're done. And the coffee that you're drinking is from Streat, a social enterprise devoted to helping young people experiencing homelessness or disadvantage. And one of our favourite parts: instead of bottled water, each room has a glass bottle and some glasses, which you can fill 24 hours a day in the lobby from still or sparkling taps. Sparkling. Water. On. Tap.
That's not all the lobby offers. The street art team at Blender Studios has transformed the space into a hip, fun work of art, with bold colours on every wall. There's plenty of hanging Melbourne art as well, and furniture is colourful and comfortable. Neon sayings complete the look. It's a space where you'll want to spend time, which is the goal here. Little touches like good wi-fi and plenty of power points mean that the lobby isn't just a transitory space, but a comfortable place to relax or to work.
The phone in the room is based on a red rotary number, and all rooms come with mini chalkboards and chalk for drawing and writing messages. There's also a lending library of second-hand books in every room to keep you entertained. That will come in handy, as there is neither Foxtel nor Netflix on TV. You can Chromecast from your own device or purchase movies on the TV, if you don't feel like reading.
Ink is a 15-minute walk to Flinders Street Station and just moments from Crown. For those who aren't looking for a ton of space on the city fringe, Ink makes a mark.
Cassidy Knowlton stayed as a guest of Ink Hotel.
Details