New York! New York! for Kids
1/15
Photograph: Tom Ross
2/15
Photograph: Tom Ross
3/15
Photograph: Tom Ross
4/15
Photograph: Tom Ross
5/15
Photograph: Tom Ross
6/15
Photograph: Tom Ross
7/15
Photograph: Tom Ross
8/15
Photograph: Tom Ross
9/15
Photograph: Tom Ross
10/15
Photograph: Tom Ross
11/15
Photograph: Tom Ross
12/15
Photograph: Tom Ross
13/15
Photograph: Tom Ross
14/15
Photograph: Tom Ross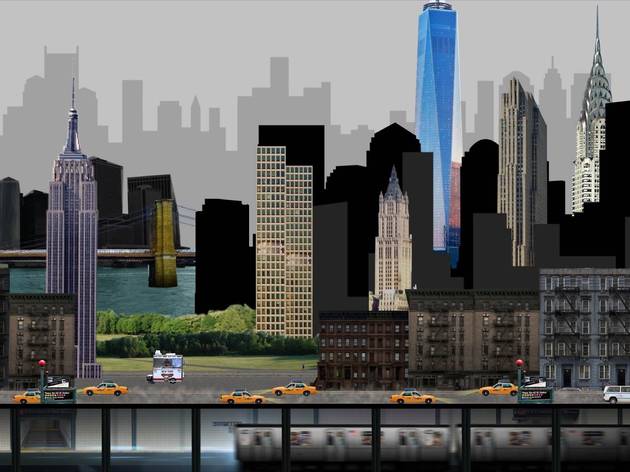 15/15
Photograph: Tom Ross
MoMA masterpieces get a kid spin at this interactive installation at the NGV
Take your kids to the Big Apple without even leaving Melbourne. An interactive kids exhibition is happening at NGV, coinciding with MoMA: 130 Years of Modern and Contemporary Art.
New York! New York! for Kids provides families with the opportunity to learn more about the city that never sleeps and all the artists who drew inspiration from the bright city lights.
The installation provides several activity areas that will keep your child occupied as though they are at Coney Island. City Blocks allows children to use building blocks to create their own miniature version of the Empire State skyline. There is also an area called Let's Go to New York City! which has an interactive quiz that provides digital souvenir rewards. Additionally, Marble Run allows children to race a marble ball through the city and the City Lights photo booth lets your child's inner actor or movie director shine.
In conjunction with the exhibit, NGV has released a children's book entitled 'My Modern Art Book' which features 23 artists from the 200 artworks exhibited. The exhibition features the likes of Vincent van Gogh, Henri Matisse, Pablo Picasso, Salvador Dalí, Frida Kahlo, Edward Hopper, Jackson Pollock, Mark Rothko, Jeff Koons, Cindy Sherman, Diane Arbus, Agnes Martin and Andy Warhol.
New York! New York! for Kids is a free exhibition for all ages. It will be on display at the NGV from June 9 until October 7.