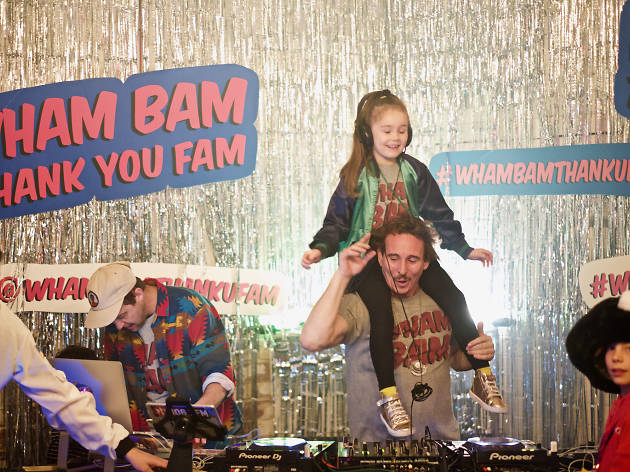 Time Out says
The fun-filled family day party is back with its biggest event yet
It's rare that an event billed as family-friendly actually certifies that there's an equal share of fun for kids and adults alike. Yet this is a central premise to Wham Bam Thank You Fam, a daytime disco for all ages with a cheeky speed-dating event for single parents.
Expect 10-pin-bowling, kooky karaoke, kids DJ lessons, cooking classes, rock 'n' roll choir, a drawing room, a parachute dance, a wellness room run by Lois Kerr of Sprouts Yoga all in one jam-packed event at Welcome to Thornbury – and yes, there'll be speed dating ala 'Welcome to Hornbury'. Bangin Hangins will once again set the party mood with colourful, zero-waste installations.
Following a successful 'Rocktober' edition, the November Wham Bam is headlined by the Teenie Tiny Stevies, sister-duo and purveyors of 'kids music that doesn't suck' with bangers that have useful lessons like 'you can only go to the toilet on the toilet'.
First kicking off in August, Wham Bam is the brainchild of Laneway festival founder Jerome Borazio and music journalist Mikey Cahill. Their mission is to bring people together and create a kids party that is also an adults party, where you might even be able to saunter off to the side of the dancefloor and enjoy a good beer while the little ones cut a rug.
Save the date for Saturday, November 24 for the next Wham Bam. Adults entry comes free with kids ticket purchases.
Details