UPDATE: It's your last chance to book tickets to the Melbourne Museum's incredible Jurassic World: The Exhibition. Whether you're a grown-up dino fan (who isn't?) or you're looking for a September school holiday highlight, make sure you visit the website and grab your passport to Isla Nublar now.
There is a moment as you're walking through the lush prehistoric forests of Jurassic World where you come across a huge, hollowed-out log. You step inside, and suddenly you hear a strange rumbling noise. Light filters through cracks in the log and, just for a moment, you see something moving. Was that scaly reptilian skin? A claw? An eye? Then, it dawns on you: the fences have been breached, and something big is out there.
"It should feel like it would be able to eat you, or nuzzle up to you if it's a friendlier dinosaur!" says Philip Millar, laughing. Millar is the associate creative director of Creature Technology, the Melbourne-based company behind the animatronic dinosaurs that will star in the Melbourne Museum's blockbuster exhibition. His puppeteering expertise makes him a core member of the Creature Technology crew, who are widely considered to be at the forefront of naturalistic animatronics. Their credits include the Walking with Dinosaurs and How to Train Your Dragon arena spectaculars and the titular role in 2013's musical version of King Kong. They have teamed up with Universal Pictures, Museum Victoria and US design group Imagine Exhibitions Inc to place highly realistic life-sized dinosaurs in sophisticated environments.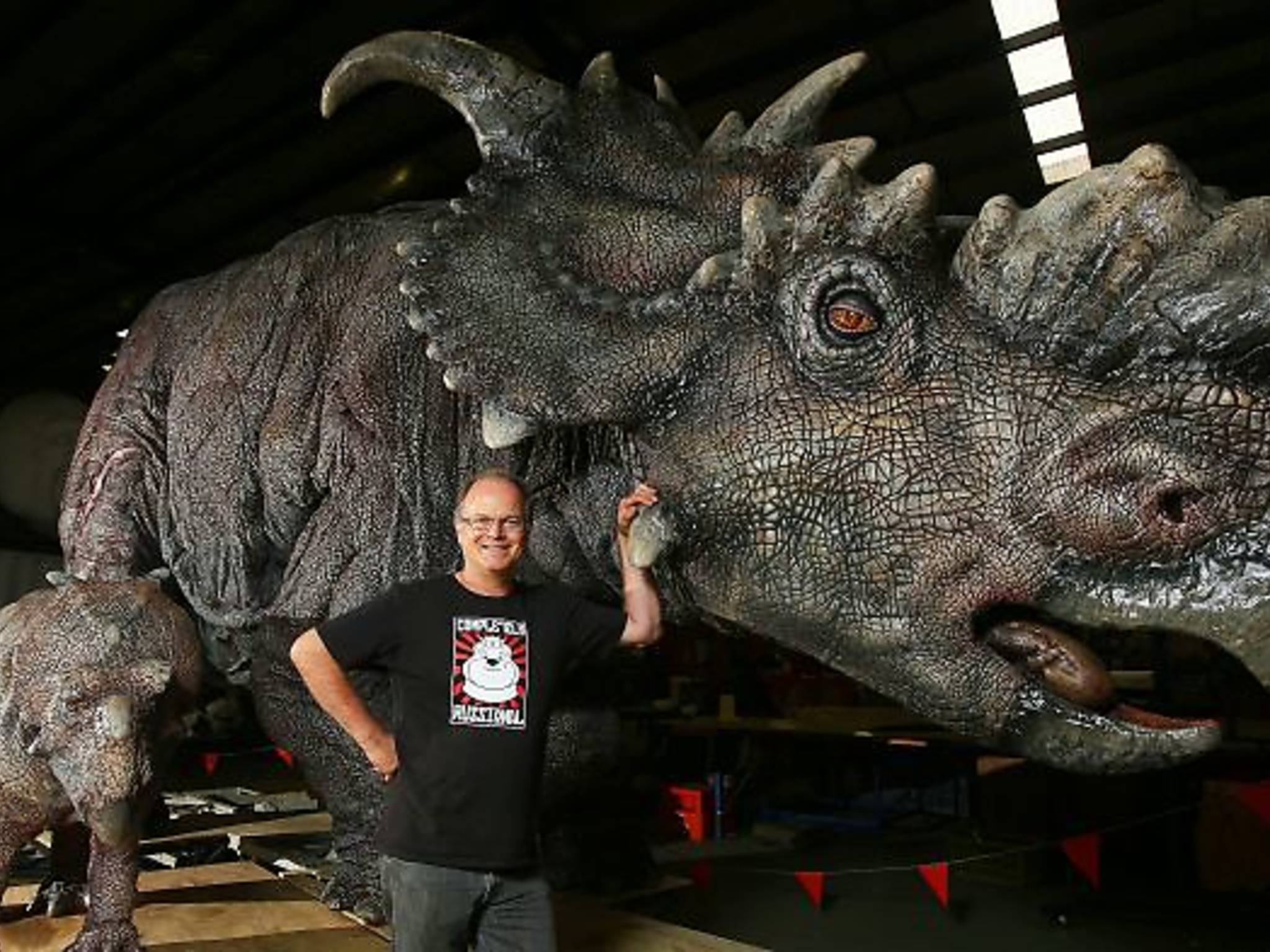 Today at Creature Technology headquarters, Millar is putting the final touches on a curious brachiosaurus, who will inspect visitors as they enter Isla Nublar (the fictional island off the coast of Costa Rica and the site of the ill-feted Jurassic World park). Millar controls a large robotic arm, which determines the dinosaur's movements. Once he's happy with the movement ("the brachiosaurus is based on scans of a real skeleton, so that the mechanism reflects the positions of the bones of the real creature") he'll add them to a series of loops that will run during the exhibition, so that no visitor ever sees the same sequence twice. "It should feel dynamic and real," he says. "When the brachiosaurus looks down at someone and makes eye contact, they should feel like they've made a connection."
You might not find Chris Pratt or Bryce Dallas Howard on your trip to Jurassic World, but you will visit the Hammond Creation Lab, learn about real-life palaeontology and encounter all of your favourite mega-reptiles, from a peaceful mother pachyrhinosaurus (pictured) and her baby to – you guessed it – a truly terrifying T-Rex. Enjoy your stay, visitors.