Things to do in Melbourne this weekend
The weekend's best events in one place – it's your social emergency saviour for fun things to do in Melbourne this weekend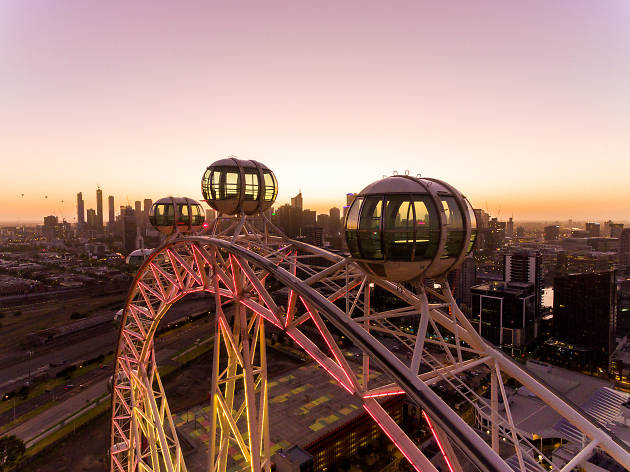 Wondering what to do in Melbourne this weekend? We can help. Check out our guide to all the fun things to do in Melbourne, from free events to exhibitions, theatre shows, live music and more. If it's a rainy day, consult our guide to Melbourne's best indoor activities instead.
Comedy
It's mostly rising stars who take the stage each Sunday night at Club Voltaire, but big names also check in from time to time, including Dave Thornton, Greg Larsen, Anne Edmonds and Damien Power.
The Melbourne's longest running and most successful improv comedy night, the Big Hoo Haa, is improvised comedy at its rawest: minimal pretension, audience participation and maximum laughter. Anything could happen! Well, not anything. Scripted comedy, for example. That definitely won't happen.
See what's on for the next seven days
Events for Kids
Even though they are little, kids sure can eat a lot of food. And that can cost a lot of money, especially during the school holidays when you're eating out and about. If you and the rugrats are at South Wharf these school holidays you can at least save a little dough with the winter specials at Munich Brauhaus. From June 25 to August 31 Munich Brauhaus is extending its 'kids eat free on Sundays' offer to include every single day of the week. Oh yes. Every single day of the school holidays (and until the end of winter) the family restaurant is allowing one child under 12 to eat for free with the purchase of an adult meal between 11am and 3pm. Your wunderkind can choose from dishes like mac n cheese balls, chicken schnitzel, a grilled chicken wrap or a cheeseburger, all served with mash or fries. If they eat all their vegetables can even treat your tyke to house-made gelato (there's vanilla, strawberry or chocolate crumble flavours to choose from). As well as offering their kids eat free special every day, Munich Brauhaus is also running family entertainment every Sunday. Kids can get their faces painted or play with something cute and cuddly a the petting zoo. Munich Brauhaus is open daily from 11.30am until late.
Things to do, Ice skating
Strap those skates on, an all-weather ice skating rink has opened at Eastland. This winter wonder is no doubt a trip down memory lane for eastside locals who once visited Ringwood's Iceland, Australia's first custom-built ice-skating rink, which sadly closed its doors in 2005. Eastland's custom-built rink is back for its second year and this time there's more of it to enjoy. Due to last year's popularity Eastland has increased the rink's size to 250 metres, 20 per cent larger than in 2017. Guests of all skill levels are invited to glide around the larger rink while surrounded by snow-topped trees and twinkling lights. The rink is covered by a marquee so you can live out your winter wonderland fantasies during rain, hail or shine. New to the Eastland Ice Rink this year is a series of themed days and nights. Relive your favourite '80s, '90s and '00s tunes while skating up a storm with Eastland's Throwback Tuesdays, or bring your date down for the super cool R'n'B Fridays. The rink will also be hosting Sunday Family Fun days where families can not only skate, but enjoy face painting, children's entertainment and kid-friendly music. On Sunday mornings between 10am and 11am the rink will be open to children and adults with special needs – because everyone should be able to feel safe and secure (and have fun) on the ice. Bubs and toddlers can enjoy the rink as well with a 20-minute ice show and kids entertainment on Tiny Tots Thursdays. Adults who've never skated (but always
Take your kids to the Big Apple without even leaving Melbourne. An interactive kids exhibition is happening at NGV, coinciding with MoMA: 130 Years of Modern and Contemporary Art. New York! New York! for Kids provides families with the opportunity to learn more about the city that never sleeps and all the artists who drew inspiration from the bright city lights. The installation provides several activity areas that will keep your child occupied as though they are at Coney Island. City Blocks allows children to use building blocks to create their own miniature version of the Empire State skyline. There is also an area called Let's Go to New York City! which has an interactive quiz that provides digital souvenir rewards. Additionally, Marble Run allows children to race a marble ball through the city and the City Lights photo booth lets your child's inner actor or movie director shine. In conjunction with the exhibit, NGV has released a children's book entitled 'My Modern Art Book' which features 23 artists from the 200 artworks exhibited. The exhibition features the likes of Vincent van Gogh, Henri Matisse, Pablo Picasso, Salvador Dalí, Frida Kahlo, Edward Hopper, Jackson Pollock, Mark Rothko, Jeff Koons, Cindy Sherman, Diane Arbus, Agnes Martin and Andy Warhol. New York! New York! for Kids is a free exhibition for all ages. It will be on display at the NGV from June 9 until October 7.
See what's on for the next seven days
Or try these Melbourne activities
The definitive Melbourne bucket list: knock off these 50 activities and you'll really, properly know our great city.