Electric Gardens Festival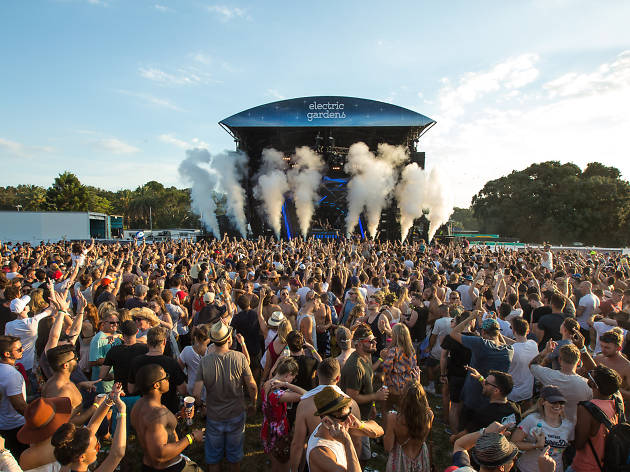 [Sponsored] Underworld leads a stellar line-up at this dance music festival in January
Looking for an excuse to party in January? Join thousands of other electronic music fans and some of the best international DJs at 2019's Electric Gardens Festival. Taking place on January 18, the 2019 edition of the festival will be headlined by Underworld. If you grew up going to clubs in the '90s you will have certainly had a dance to their Trainspotting mega-hit, 'Born Slippy'. The opening drones of the drum-heavy hit will be sure to bring back nostalgic dancefloor memories to the open-air festival.
They'll be joined by Colombian-American DJ, music producer and record label owner Erick Morillo, who will bring his electronic-house beats to life on stage. The UK's Eats Everything will also make the trip over the pond, while local stalwarts Set Mo and Bag Raiders will bring their much loved danceable DJ sets to the mix. Whether you're an old-school techno fan, an EDM newbie or you just love a day out filled with great music, Electric Gardens will be sure to bring the vibes come the public holiday, so snap up your first release tickets ASAP.
Great news, too: Electric Gardens Festival has announced its venue for 2019. The festival will be held at Shed 14 in Docklands. This heritage-listed shed is one of the original buildings in the area and overlooks the glistening Victoria Harbour.
More artists will be announced for the festival in the coming weeks.