Melbourne Symphony Orchestra Education Week
For one week every year since 2011, the MSO has busted its chops to help the classical-curious develop an appreciation of orchestral music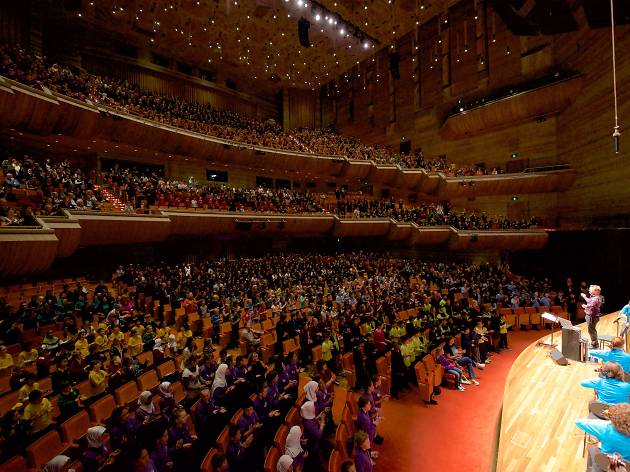 A highlight of the program is always the 'Symphony in a Day' component, which provides the opportunity for anybody to play alongside the talented MSO musicians at Hamer Hall to some really big repertoire. While applications are now closed, you can come and hear the results of their hard work. "It's a culmination of the week in many ways," says Ben Northey, the MSO's associate conductor. "We have hundreds of applications each year and we somehow have to sift through them all and try to accommodate as many people as possible."
Add to that a program of classical and orchestral music highlights (everything from the Star Wars theme to snippets from Prokofiev's Romeo and Juliet), coupled with multimedia specifically designed to assist the audience to understand the mechanics of the orchestra and you've got a busy week. "It's so concentrated in terms of the number of things the orchestra does in that week," Northey agrees. "Because I conduct a lot of those, I feel like I never stop, which is a lot of fun and very energising. But as soon as we hit the end of the week, I collapse in a big heap. I feel like I've conducted a Wagner opera or something."
Ben Northey's top tips for the orchestral newbie
"Before you come to a concert, do a crash course on some of the pieces that you'll hear. Learn about the history behind a piece of music and about the composer."
"Have a listen to the music you'll be hearing. It's always more interesting to get a piece of music in your ears first, so that it's slightly familiar when you see it live."
"Don't be afraid. Seeing the MSO is not as intimidating as you might think. The education series and family concerts in particular are very informal and relaxed... you just have to be respectful of the musicians and the other people in the audience."
Did you know?
The MSO is over 100 years old and is one of the oldest orchestras in the world
Even without a choir, sometimes the MSO performs with up to 100 people on stage
The MSO is made up of interesting and super-talented people, including racing-car drivers, visual artists and trained doctors who have ditched medicine for a career in music