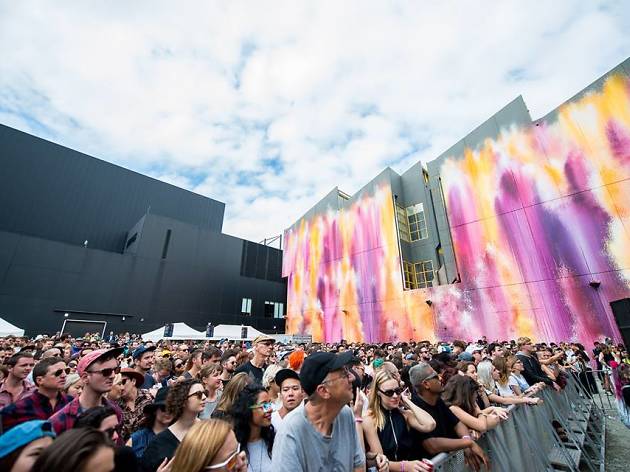 Melbourne's sweetest summer festival is back at it for 2018
Melbourne's coolest summer music and arts festival is back and they've just announced a whopper of a line-up for 2018. Summer's looking pretty peachy pals!
Headlining the 2018 event will be Cut Copy who will be performing off the back of their new album Haiku From Zero. The Melbourne outfit will be joined by US rapper Joey Bada$$, Chicago r'n'b star Jamila Woods, London rapper J Hus and British beatsmith Actress. Also on the line-up for 2018 will be Laurel Halo, Honey Dijon, Gerd Janson, Dan Shake, Eclair Fifi, Project Pablo as well as local legends Beaches, Body Type, Love Deluxe, Ara Koufax and Stella Donnelly.
The art portion of Sugar Mountain 2018 will again bring together a host of artists and mediums with a particular focus on performance art. The headliner is Via Alice, an immersive virtual reality film that will be accompanied by a live sound and dance performance by artist, producer and dancer Khalif Diouf (aka Le1f) and Indigenous Australian dancer and choreographer Waangenga Blanco (Bangarra Dance Theatre). The festival will also feature works by dancer and choreographer Amrita Hepi and the Pasefika Victoria Choir, as well as performance and production wiz Justin Shoulder alongside electronic artist CORIN and digital video artist Tristan Jalleh.
Sugar Mountain's experimental Sensory restaurant experience is back and this time they're putting the "sugar" in Sugar Mountain with a spotlight on dessert. And fans of the international underground DJ show Boiler Room will be glad to hear that the Boiler Room stage will be back again to broadcast Sugar Mountain's DJ sets live across the world.
Returning to the Victorian College of the Arts (VCA) on Saturday January 20, next year's festival will also be expanding to include the neighbouring ACCA and Melbourne Arts Precinct.