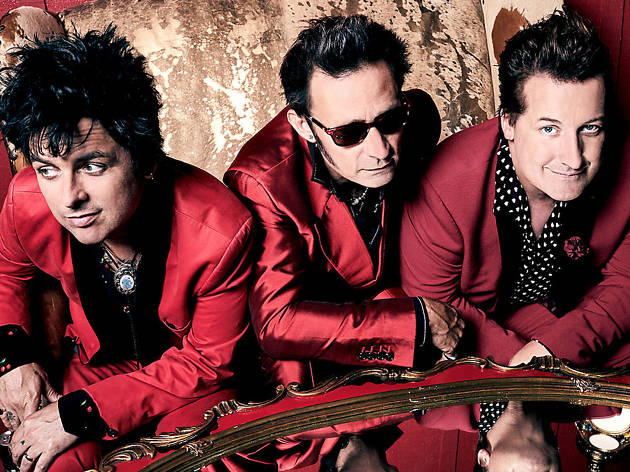 Time Out says
Green Day, Fall Out Boy and Weezer are teaming up for one hell of a stadium tour
Three of the most popular rock bands of the noughties are teaming up for one hell of a tour Down Under. Green Day, Fall Out Boy and Weezer have announced they'll be coming to Melbourne this November as part of their Hella Mega Tour world.
The three bands are coming together to play a massive arena show at Marvel Stadium on Wednesday, November 11.
Green Day many will associate with their huge 2004 revival album American Idiot (and the song of the same name), but the band has actually been shredding guitars and smearing on eyeliner since 1986. Across more than three decades in the industry the band have scored five Grammy awards, been inducted into the Rock and Roll Hall of Fame and have just released their 13th studio album, Father of All.
For those who embraced the emo of the 2000s, Fall Out Boy was followed like a bible. Like many fine bands, Fall Out Boy originated in Chicago and burst onto the scene in 2005 with debut album From Under the Cork Tree. It was their sophomore album, Infinity on High, which really cemented their fame – to this day it's impossible for noughties teens to hear 'Thnks fr th Mmrs' without getting a chill down their spines.
Weezer are possibly the most diverse of the headline trio, showing the world since the mid 1990s that they can play everything from hard alt rock ('The Sweater Song') to suave, easy listening pop ('Island in the Sun'). The band's 14th album Van Weezer is due out in May 2020.
Because three huge (-ly nostalgic) bands are still not enough, the Hella Mega Tour will also feature cruisy New Zealand rock outfit the Beths as support. If you haven't had the chance to hear their single 'Future Me Hates Me' yet, give it a play and listen out for the Weezer-esque sounds.
General tickets go on sale Friday, February 14 – just in time to treat someone special (that is, yourself) to possibly the best Valentine's gift money can buy. Green Day, Fall Out Boy and Weezer fan pre sales start Monday, February 10.
Details