When set designer Christine Jones was invited to join the creative team for Harry Potter and the Cursed Child, she was already well across JK Rowling's world-conquering books, thanks to her two sons.
"A few months before I was asked, we'd just finished the last book together," she says. "We'd listened to them on audio books, over several years during car trips."
Her youngest son was particularly enamoured with Harry, and when he was five years old refused to leave the house without glasses and a lightning bolt scar drawn on his face. But Jones had a particular rule about the Potterverse: her sons had to finish each book before they could watch the film based upon it.
"I do think the films are very well done, for the most part, but there's nothing like capturing it in your mind's eye first," she says.
That's largely what Jones's job as a set designer involves, and what she's required to do with Harry Potter and the Cursed Child, the two-part play that has broken all kinds of records in London and New York and will have its Australian debut this summer.
It's written by Jack Thorne and based on a story that Rowling developed. So Jones's first step in designing the sets was to look closely at how the author built this world in the original books.
"I was reading them with a pencil in hand, ready to underline anything that conveyed ideas about the visual world," Jones says. "I was astonished to discover how little is written that's a description of what things look like.
"[Rowling] does a tremendous job of evoking the emotional quality of a space, or just the tiniest of details – something like the floating candles, for example – but other than that, there's very little that is described, which left us a lot of room to make our own discoveries."
Cursed Child picks up exactly where Rowling's books wrapped up: 19 years after Voldemort was defeated, when Harry's second son is heading to Hogwarts.
"It's as if time stopped after the books were completed, and had been paused, waiting, frozen, for these stories to be reignited," she says.
The story begins at London's Kings Cross Station, which provided Jones with her visual inspiration: the Cursed Child stage is built to look like an old-fashioned British train station, with timber floors, high, ornate arches, clocks and dark shadows. All the locations to which its characters travel appear within that frame.
But that's where Jones's real challenges begin – Cursed Child revisits scenes from the fourth book, Harry Potter and the Goblet of Fire, including sequences set underwater in the Hogwarts Great Lake, in the Forbidden Forest, and in the hedge maze that features in that book's climactic scene.
It's not exactly your standard design brief for a play, so Jones had to work closely with the entire creative team to solve these problems, including actors, the illusion designer, costume designer, movement director and lighting designer. There was a series of workshops to establish a theatrical language for these characters, and, unlike most plays, the entire design team was on hand throughout the full rehearsal period.
"We all felt like we had gone to Hogwarts; like all of us had entered this school of magic," Jones says. "It really felt like a bunch of kids in a room playing imaginative games: OK, how are we going to make this happen? Let's play around and see what we can come up with."
Each member of the cast and crew was sorted into a Hogwarts house, and Jones (a Hufflepuff) had the opportunity to make adjustments as rehearsals went on, and design every wand in the show while watching the actors discover their characters. Those wands were crafted by a man called Jim, sourced by props master Lisa Buckley.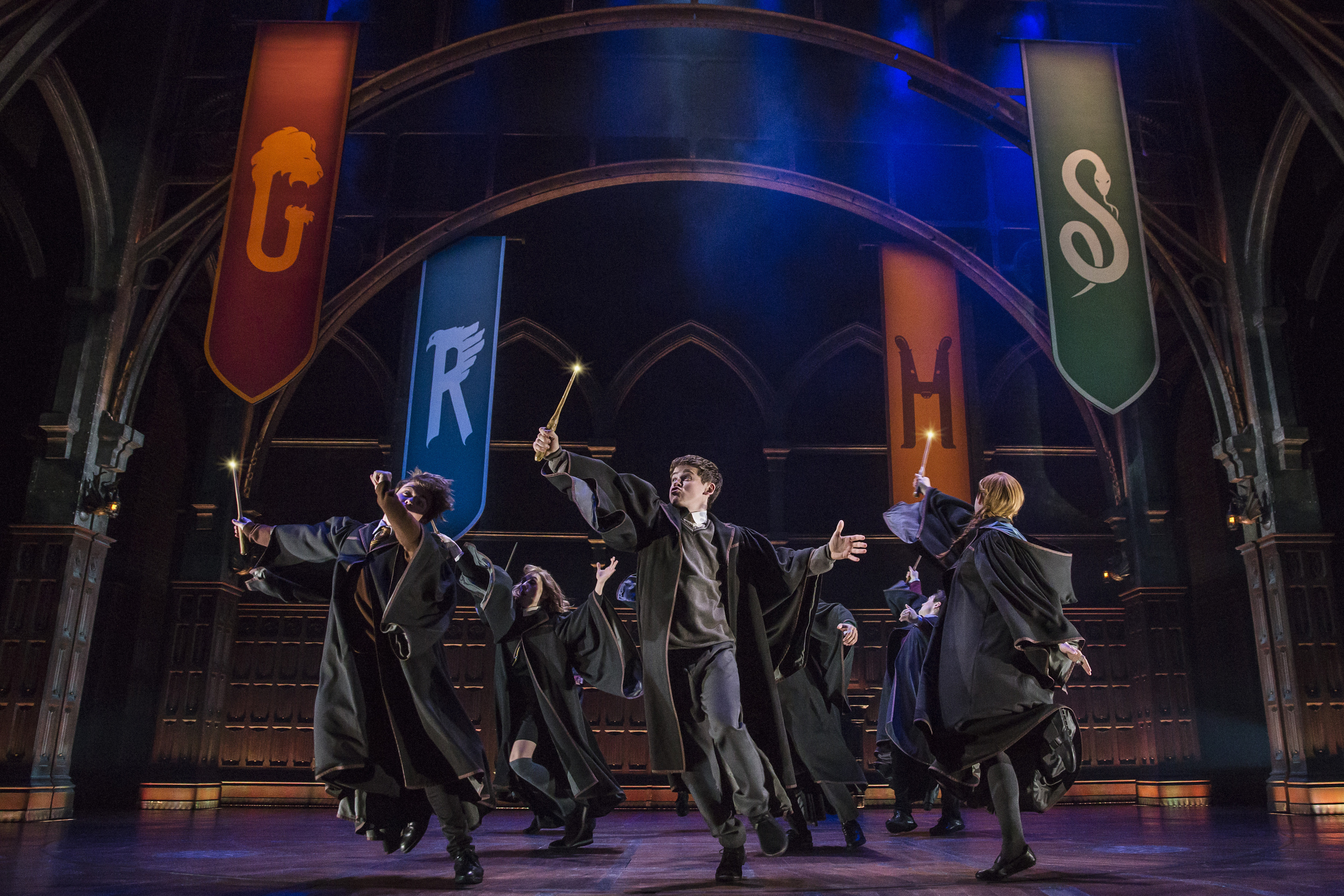 "I never met him personally, but he lived in a field, it seemed, somewhere on the outskirts of London. She would take my drawings to him, he would whittle some wands, then she would bring us those and take him some more drawings; it was an ongoing process."
Audiences shouldn't necessarily expect those wands – or anything else – to look like what they know from the film. Although there will inevitably be some similarities, drawing from the same source material, Jones's designs are entirely original. She even created all-new house logos for the four Hogwarts houses.
But beyond aesthetic differences, Jones's designs stand apart for the simple fact that they support a theatrical style of storytelling, key to the show's success.
"We had our own vocabulary to draw upon, and that vocabulary is much more similar to the experience of reading a book," she says. "It's about engaging the audience's imagination and implying or evoking an image or an atmosphere, and allowing the audience members to engage with us to complete the picture."
Harry Potter and the Cursed Child is at the Princess Theatre from January 18.