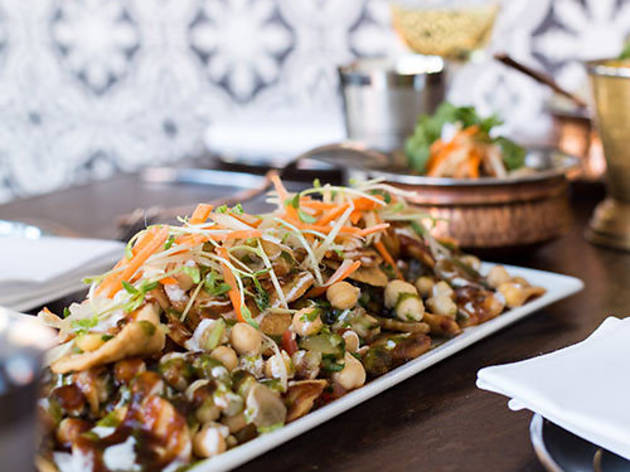 You're losing Golden Fields, St Kilda, but at least you've gained craft beers, curry and cardamom ice cream
Dhaba at the Mill had people trekking as far as Kyneton for its take-no-prisoners fragrant curries. But owners Jennifer and Jessi Singh are nothing if not equal opportunists. First, they blessed Fitzroy North with Horn Please, and now you can get your hands on their mod-Melbourne-Indian mash-ups at the non-dodgy end of Grey Street in St Kilda.
Their latest slick, bronze diner has all the charm and pickles you've come to expect from the Singh's. It's also got Bollywood films projected across the roof and a self-serve fridge of craft beers – simply grab your Feral IPA, bust off the cap and they'll tally your bottles at the end. Neat.
They go hard on the fresh and often less familiar stuff of northern India here. Dense and cheesy strained-yoghurt croquettes are cardamom heavy, filled with jammy chilli pickle, and served in a vibrantly fuchsia beetroot and yoghurt sauce.
Dining alone can be tricky. Dishes are built for sharing and the communal table used to be the bar so it feels (and looks) like you're sitting on the wrong side of the pass. Having said that, the crew are a super friendly bunch, happy to supply chat to loners and takeaway containers when you order too much. Samosas here are two giant pyramids of crunch. The potato and pea filling is a little bland, but it's all lifted with bright squiggles of tamarind sauce and a coriander and mint chutney.
Curry-wise, go for rock ling bathed in a mild and mustardy turmeric-coconut sauce. We're all about the goat dunghar too – the meat is initially chargrilled, rendering the dish deeply earthy and smoky.
They've pulled back on the nut-punching heat to appeal to a potentially tender crowd, but compensate like we do by ordering the papadum with the full condiment set – you get a raging red chilli sauce, limey pickles and mint and mango chutneys – and then extinguish at the end with a creamy cardamom and pistachio popsicle. Delicious stuff.
Venue name:
Babu Ji
Contact:
Address:
4-6 Grey St
St Kilda
3182

Opening hours:
Mon-Tue 5-9pm; Thu 5-10pm; Fri-Sat noon-3pm & 5-10pm; Sun noon-3pm & 5-9pm