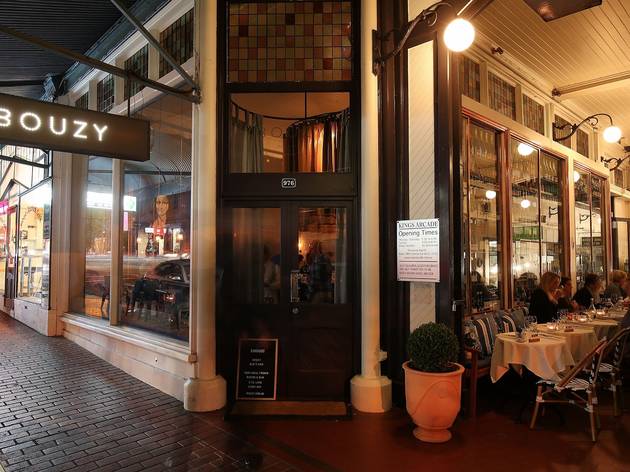 Time Out says
A Francophile's delight
Sometimes a venue can't tell you who it is, it lets the people decide. Laissez-faire, if you will. Bouzy 'bar a vin' by name is a wine bar, but to the people of Armadale, it is so much more. Bar? Bistro? Restaurant? It's up to the people to decide.
This is not owner Jason McLaren Jones' first foray into the French bistro theme. You might know the charmingly eccentric restaurateur from his permanent smile and oddly geometric-framed glasses at the all-day diner and steakhouse Entrecote, or the once ever-changing, shuttered fine diner Prix Fixe.
Bouzy sits at the mouth of a shopping arcade in the middle of Armadale. It's amazingly out of place, but clearly something the suburb has been crying out for among all the furniture, photography and wedding shops along never-ending High Street. The bistro is spread beyond the walls, and the majority of the seating is in the adjacent heated walkway (which diners book for). And while staff are met with aghast looks from locals who are more comfortable with the rigid restaurants in the area, once settled, everyone leaves happy.
The interior is the very definition of attention to detail. Like all Jones's venues (this one designed and built by Jones and his partner, Brahman Perera), it is outrageously beautiful, with nods to France and Melbourne, all the way to the commissioned reinterpretation of the Mona Lisa painted by local artist Kim Barter. The black-and-gold colour scheme is dominated by a curved, marble bar surrounded by stools that have been customised, upholstered and adorned with tassels, protected by a gold hanging curtain.
Mumm is the house champagne. A little mainstream for a wine bar, but it plays perfectly to the locals. Wine nerds have the option of the 2012 Pierre Paillard 'Les Terres Rose' from the bistro's namesake area of Champagne, though.
The food reads like the greatest hits of France – a collection of classics rather than one-hit wonders. Gougeres (cheesy, choux puffs) receive a decadent update, pumped with a gruyère-and-thyme bechamel. Fried potato skins could do with a touch more cooking, but all is forgiven thanks to the cooling filling of lactic crème frâiche offset by smoked, salty pops of Yarra Valley salmon roe. It's a predictable combination for a reason – it is foolproof and endlessly pleasing. Escargot comes piping hot in a ceramic dish, bubbling in a black garlic-and-herb butter that cries out for a baguette to mop it up, and perhaps a glass of Chablis. Bouzy has planned for this, and the 2016 Sebastien Dampt by the glass makes for a perfect partner.
The cheeseburger, steak frites and tartare are obvious imports from Entrecote and make sense on Bouzy's menu. But if you're after a more unusual experience, the pithivier (pie) filled with a mass of molten camembert, buttery mushrooms and leek acts as the perfect fortifier to a drinking session. The pastry might not be made in house, but that doesn't make the pie any less deserving of an order. The French onion soup, served in a classic tureen, capped off with two thick slices of baguette sealed in by a volcano of melted gruyère, could do with a little more reducing, but we get the inkling that the richness of the original dish has been pulled back for the locals.
If you care to linger, order your dishes a few at a time. The kitchen has been designed for maximum efficiency due to its diminutive size, and food comes thick and fast during the pointy end of service. Despite straddling the bar-slash-restaurant category, Bouzy manages to be elegant and classy without any airs of pretentiousness and is as open to serving you a cocktail as it is a multi-course meal. It's Paris-lite, fit for Melburnian tastes.
Details
Best selling Time Out Offers