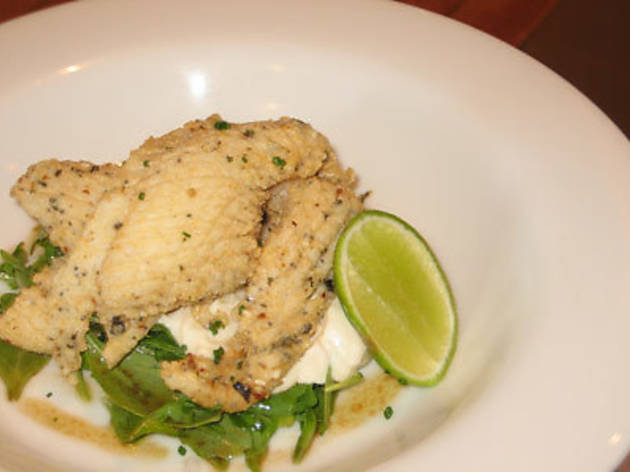 With their aprons still drying out from the floods, Brisbane's Kis Cucina team are moving their slow food down south to Bramble and Vine
It's not often that you meet someone who can speak tearfully for 45 minutes on the beauty of a pickle, but when you do, you think that maybe they would do a bang up job of running a restaurant. Hopefully, almost-ready restaurant Bramble and Vine will prove that theory correct when they open On September 5th. Chef and front of house team Sarah-Jane Mahoney and Leila Donnan (last seen bucketing out their award winning Brisbane restaurant Kis Cucina), have landed on our fair shores with plans to bring a simple, produce-centric bistro menu to a begging-for-it corner of Carlton North.
With 20 years of experience under their belts, and a near fanatical love for quality Australian produce, the pair will be offering up a traditional format three course modern Australian menu, with sporadic Italian and French influences. The wine and beer list will be fiercely Australian, selected predominantly from small vineyards and breweries by Donnan herself, whilst the menu will be dripping with tid-bits sourced through quality small goods supplier Savour and Grace. Expect to see morsels perched atop their risottos, salads, and platters like robust Alto olives and olive oil, hard-to-come-by pickled cucumbers from Bally Fionan in WA, and dry aged chorizo from San Jose small goods in South Australia.
At the moment, the plan is to serve dinner only from Monday to Friday, but with the selection of boutique wine and beers on offer and a lack of any competition in that genre on the strip, this could become an after work drinking destination- whether they like it or not.
The exact opening day hasn't been confirmed yet, but the aim is to be up and running in the next two weeks –stay tuned and we'll let you know. There is definitely a ready-made market waiting to support champions of great produce, so if Bramble and Vine can live up to its own expectations, we'll happily give them a warm welcome to the Melbourne cold.
Venue name:
Bramble and Vine
Contact:
Address:
749 Nicholson St
Carlton North
3054

Opening hours:
Mon-Fri 6-11pm
Transport:
Nearby stations: Rushall