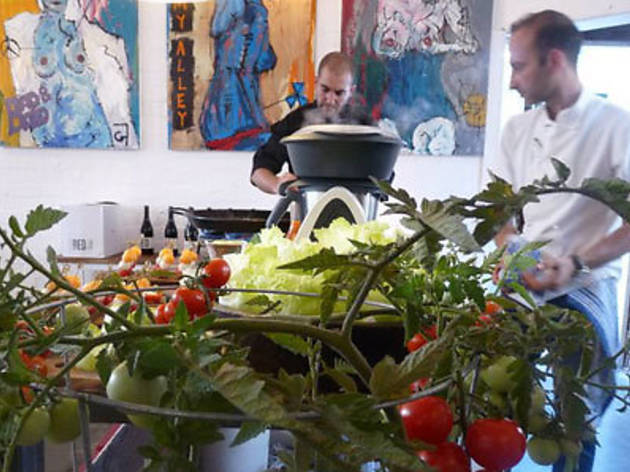 Time Out says
Cheap chardonnay and savoy crackers have just been mightily upstaged
Do you like art, alcohol and eating? Well have we got an exciting surprise for you. Comida Bebe pop-up food events are an enterprising venture from ex Vue de Monde senior chef Andreas Papadakis, sommelier Raul Moreno Yague (also from Vue) and creative guru Zoltan Klein and they combine food theatrics with funky exhibitions for a "sensory overload" experience. Say that five times quickly.
In layman's terms, they're making fancy finger food in venues like art galleries and it's putting the old block of sweaty cheddar to shame. True, typical gallery fare is usually free, but for art-loving foodies, Comida are adding an exceptional new dimension to the exhibition experience, so at $18 a head, it's the best value dinner and a show in town.
Papadakis creates bites that are as visually dramatic, and thought provoking as the artwork that surrounds him. Bamboo swizzle sticks skewering balls of watermelon, goat's cheese and rockmelon look like edible pieces of pop art, while a midnight-black squid ink 'paella' with crocodile creates a dramatic centrepiece. Using an electric steamer he turns out surprising numbers like chorizo wrapped in apple strips, dipped in caramel and impaled to make a sweet, meat lollypop.
There are obviously some cooking limitations, as they're working with what looks likes a glorified camp stove and a trestle table, but an occasional soggy hors d'oeuvre that was prepared too early and a few crunchy grains of rice in the paella are the only noteworthy glitches in a pretty impressive system. The food bears all the trademark flair you would expect from an ex-Vue chef, and the exceptional accompanying wines and a white sangria would make even a bad art exhibit bearable.
Thankfully, the artists they are teaming up with at Surface Gallery in St Kilda are pretty decent, so you shouldn't even have to lie about liking the work on display. In time, the trio are hoping to pop up in ever more abstract environments and bring gastronomic joy to congregations of trendsetters all over Melbourne. We're hoping they do too, and will be watching to see if anyone else jumps aboard the mobile gourmet wagon.
Details
Users say