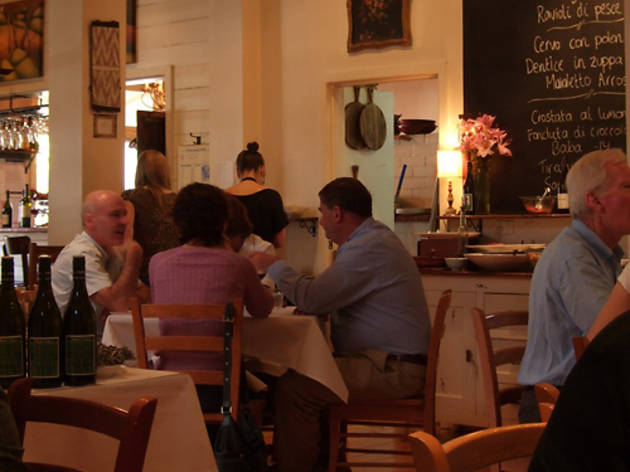 Time Out says
Suffer from menu envy? Can't read? Ditch the list, at Da Noi
Choice: the trap that leaves you peering across the table at both your partner and their dish, wondering if you could have done better. Da Noi has no menu, hence no such dilemma. Instead, they have an $85 five-course feed-me format that will excite you more than birthday cake excites a little kid. Aside from assuring you that allergies are noted, even the waiters can't tell you what lies in store.

From our experience, all we can absolutely guarantee is mild panic from overeating, and delicious meat. Not that they ignore vegetarians; it's just that abstainers won't appreciate rare slices of venison with tuna in a mustard sauce (odd, but awesome), quite as much as a carnivore. Nor can they relish the sweet cured offerings that nestle among the more neutral dishes of pickled vegetables, fish, and warm, melted eggplant. Pippies caught in a garlicky net of spaghetti may be less controversial, but then it's straight back to crisp-crumbed, soft-lamb cutlets.

Sound good? Well, you probably won't get any of these same dishes when you go, because Pietro Porcu's menu is based on the produce that's available on the day. That's the beauty of Da Noi; it's an ever-evolving feast that moves with the whim of the kitchen.

That whim is Italian - specifically Sardinian. Hence, your only certainties are that the meal will progress from antipasti through to dolce, and that it will make you happy. Almost as happy as the waiters, who know that 98 per cent of diners will agree to eat whatever they're given and smile about it.

Candlelit, creaky floored and bedecked in white linen, it's not modern, edgy or even exceptionally cool. It's better - because to be fed without annoying questions is like being five again, with a mum who is a far better cook than your own. No offence.
Details
Address:
95 Toorak Rd
South Yarra
Melbourne
3141

Price:
$50-$100
Contact:
Opening hours:
Tue-Sat 12 noon-3pm; Mon-Sat 6-10pm
Users say