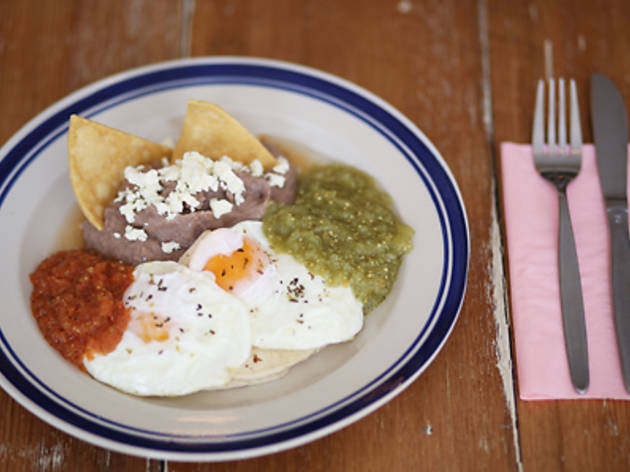 1/18
2/18
3/18
4/18
5/18
6/18
7/18
8/18
9/18
10/18
11/18
12/18
13/18
14/18
15/18
16/18
17/18
18/18
Time Out says
Welcome to Melbourne's first and only taqueria, bakery and coffee shop hybrid. Bread and tacos. Why not?
When the previous tenants of this St George's Road premises left a fully functioning bakery out the back, the El Chino team stuck some bun-rollers into one kitchen and Mexican chef Alfonso 'Fonz' Foncerrada (Cafe Rosamond, Seven Seeds) in the other to do Mexican brunch.
In the white tiled dining room there's a bit of hard rubbish up-cycling going on and plenty of pastel mint paintwork. Nanna-style cream buns and rock cakes studded with sultanas fill a glass cabinet next to freshly baked loaves on the counter. Small tables with knobbly legs and marble finishes are cute as a button, but do expect some knee bumping with the clientele of pre/post Piedimonte's shoppers, burdened with bags and prams. A courtyard area that seats around 30 people is great in the warmer months, when the cafe makes their own paletas (Mexican icypoles) and fresh fruit granitas.
For breakfast, go for a breakfast plate of huevos divorciados (translation, divorced eggs). You get a pair of sunny yolked fried eggs, salsa roja (red), herby salsa verde (green) and refried beans soaking into warmed tortillas that will only set you back a tenner. Add guacamole or chorizo to anything for $4. Tacos hover at the $6 mark. There's the Caribbean influenced cochinita pibil (a warm corn tortilla filled with citrus-y slow cooked pork stained yellow with annatto – the poor man's saffron – and topped with refreshing slices of pink pickled onion), or a fall-apart pulled barbecue beef taco doused in tangy tomatillo salsa. Wash it down with some of their very well made coffee, most likely single origin beans from Guatemala, or go for a grapefruit Jarritos soda – pride of Mexico.
Open all day, the cafe serves up dinner at night. The menu is made to share and changes seasonally, with winter offerings centered on more meaty, belly-warming dishes while summer menu items feature lighter tapas bites.
Other than a few small issues with service (swinging from friendly and helpful to less than enthusiastic) this slightly unusual combination of homestyle Mexican meals, baguettes and lattes is working for us.
---
Details