Funkie Brewster has just launched a new summer menu
This family friendly café is one of Rosanna's best kept brunch secrets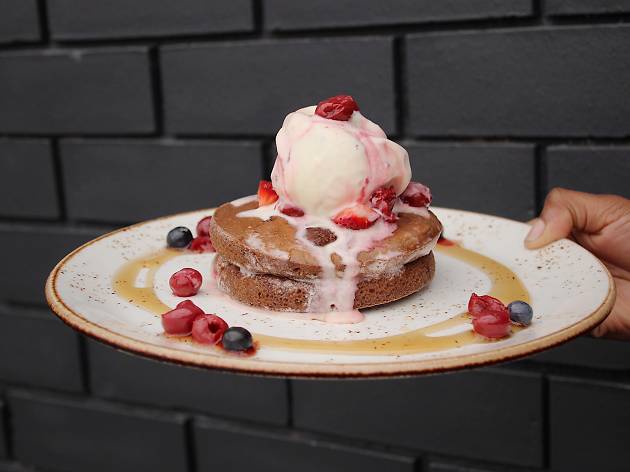 This friendly neighbourhood café has just launched its summer menu that showcases seasonal produce through fresh takes on signature brekky dishes. Order up a stack of black forest pancakes with maraschino cherries, berry compote and a scoop of Amarena gelato; or sweet corn and pumpkin fritters with heirloom tomato salsa, avo, pickled carrots, house cured salmon and poached eggs. You can also stay caffeinated with speciality coffee by Code Black Coffee Roasters or order up a fruity smoothie. Can't decide between savoury or sweet? The savoury french toast with wild mushrooms, spinach, poached eggs and bacon is spot on.
Vegan or vegetarian? The new menu will have you covered, with a bunch of healthy lunch options for gluten and dairy-free eaters too. Try the pumpkin, baby beetroot and quinoa salad with heirloom tomatoes, grilled halloumi, pomegranate and a balsamic glaze, with the option to add a protein of your choice. If you love a good burger, order the Moroccan slow-cooked lamb that's served with cheese, lettuce, tomato and tzatziki sauce on a brioche bun with fat beer battered chips.
Funkie Brewster's long-term local owners pride themselves on friendly service and community atmosphere. This 70-seat café lets you embrace the sun in the outdoor seating area or hunker down inside for a hearty meal. It's become a mini-hub for locals coming in for breakfast after a morning walk around the local parks, or for large bookings and functions. With ample free parking in this peaceful locale, you will find it's well worth discovering.