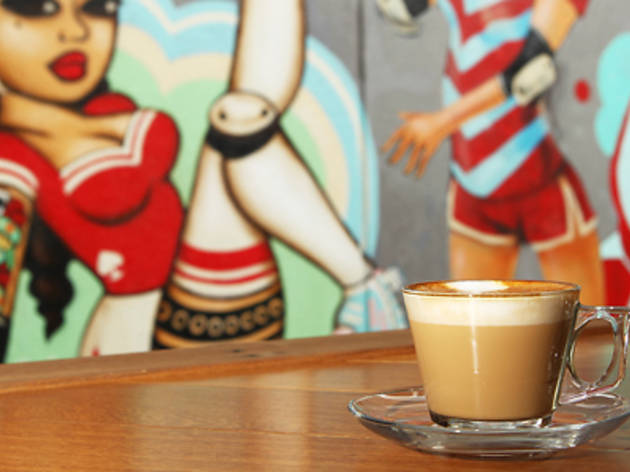 1/11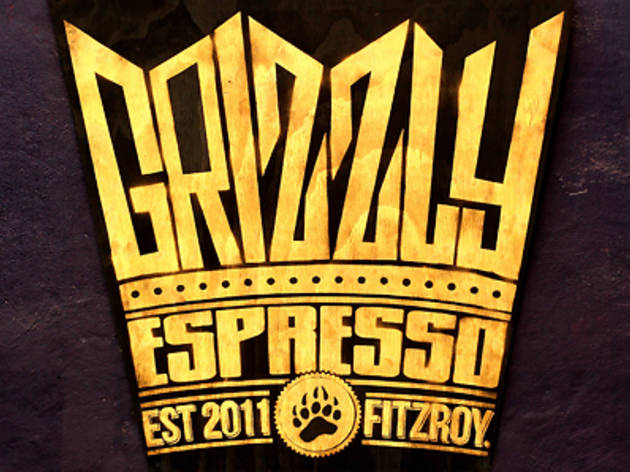 2/11
3/11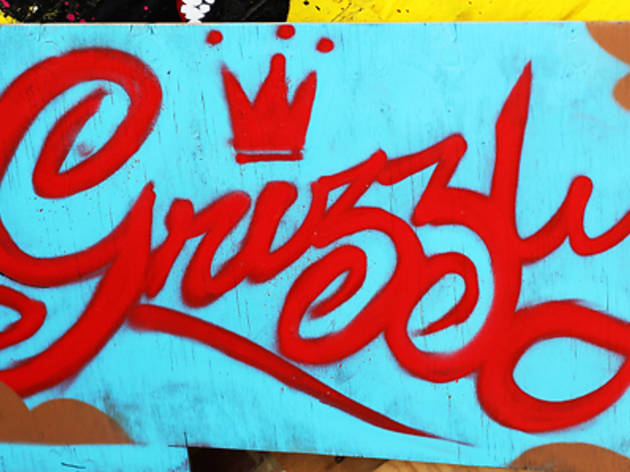 4/11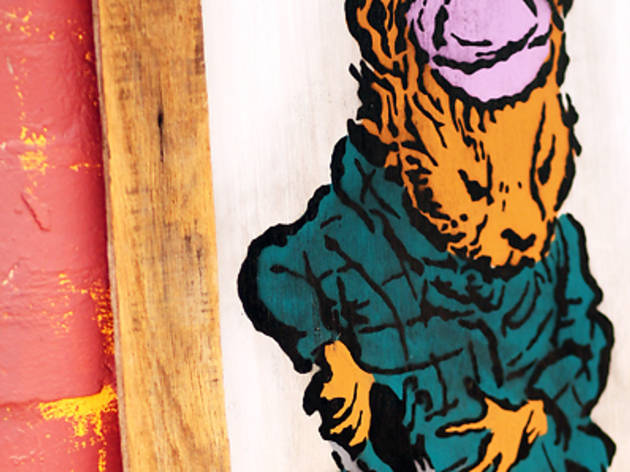 5/11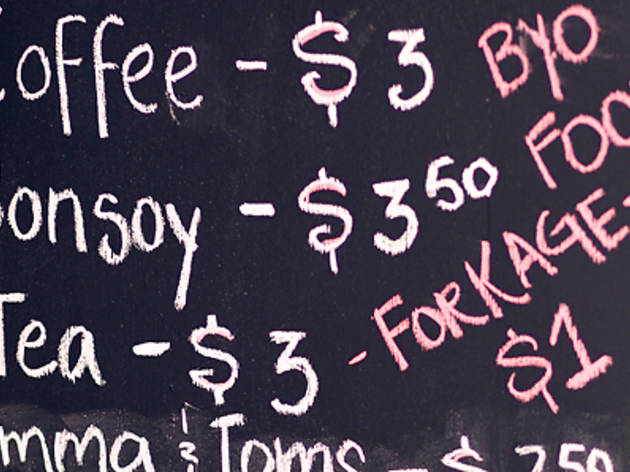 6/11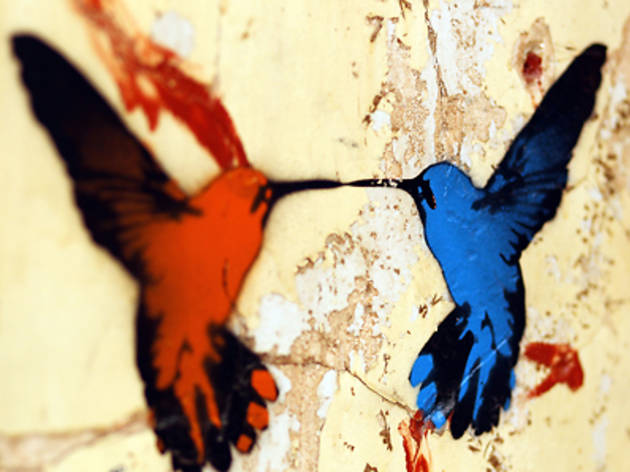 7/11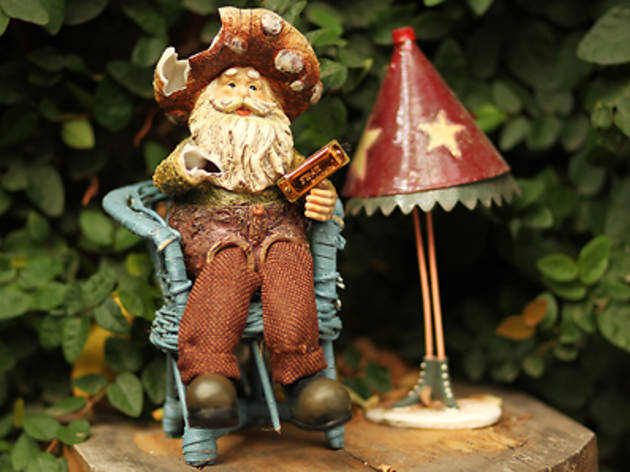 8/11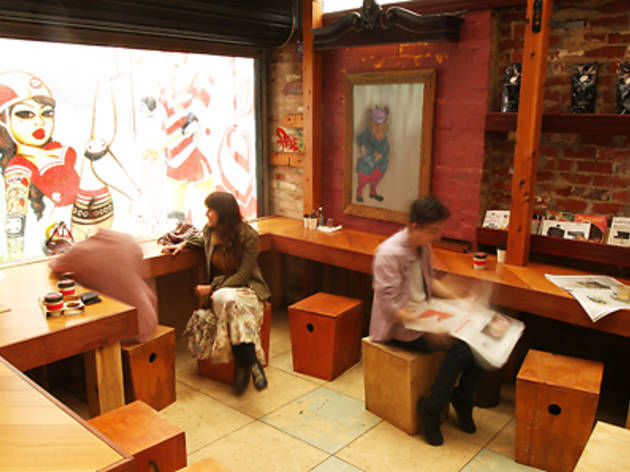 9/11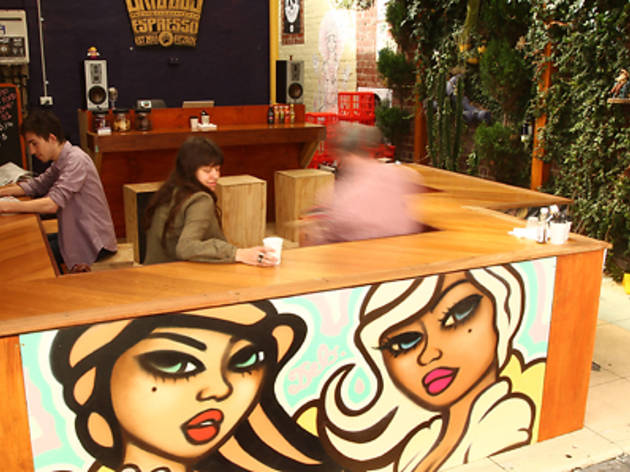 10/11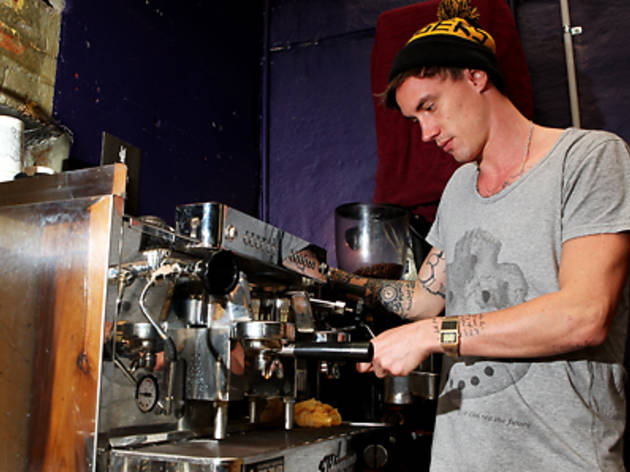 11/11
Grizzly Espresso brings even more music, art, and latte to the back streets of Fitzroy
Coffee used to be the focus of a café. Nowadays, there's so much bean slinging action going down on Brunswick Street, that new ventures need a point of difference to lure in a share of the jittery customer base.
Grizzly Espresso is doing it with art, music and frosty cool factor. Owner, barista, and DJ rolled into one, Conor Burson (AKA DJ Van Grizzly) has taken his reputation for throwing alley way parties, pimped out his garage for optimal daytime dilly-dallying, and opened up for business as an art space/espresso bar.
Because it's a one man show, Burson offers coffee (Toby's Estate), and staples like ham, cheese and tomato toasties only. But if that won't cut it, you can BYOF (bring your own food) and pay a $1 'forkage' fee. Nice. It's basic stuff, but the hallowed rules of toastie making have been obeyed: good filling to bread ratio, and cheese that has been properly lava-fied. At $5, it's student snacking at its best. Burson makes decent lattes, affogati - that's a shot of espresso over ice cream – and iced coffees at the front bar before ducking back into his flat to rustle up the snacks. It's a rudimentary system, but it's working, and there's plenty to keep your eyeballs occupied while you wait.
The first artworks to grace the alley walls are courtesy of six artists known simply by names such as Deb, Drewfunk and Monkey. There are hummingbird stencils, and a large graffiti mural of roller derby chicks, kicking back and looking way less terrifying that the real life enthusiasts of this sport. Unless your friends and musical tastes are as cool as Burson's, we don't recommend you try starting a café at home, but we do suggest you check out his.
Venue name:
Grizzly Espresso
Address:
Rear
287 Brunswick St
Fitzroy
Melbourne
3065

Opening hours:
Daily 8am-6pm