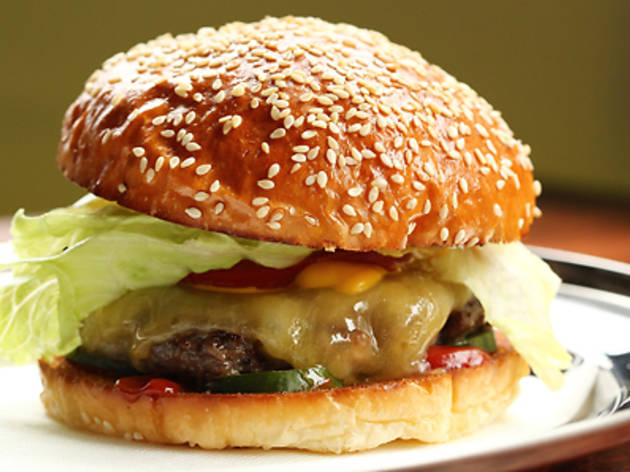 Rejoice, wagyu-junkies, Huxtaburger II is here
What the hell is it about the Huxtaburger?
When it comes down to it, the super-soft sugary bun, with its cheesy, pickly, meaty American-mustard-and-tomato-sauce-squiggled contents isn't unique. Just the opposite. But therein lies the genius.
A Huxtaburger makes good on all the broken promises of every fast food burger commercial you've ever seen. The wagyu beef patties captured in perfectly-sized, butter-brushed brioche means this hand-meal actually lives up to our inflated expectations of what a burger should be. It's served in a no BS hip-hop diner that has the stamp of approval from both the hipster and food fan factions. And it comes with a frosty tinnie.
Hot beef. Cold beer. Pure (inimitable, it seems) genius.
So in spite of the fact that Melbourne is awash with buns, we're still stone cold certain that Huxtaburger II is going to become the inner-city joint to rule them all.
You can expect the same shining silver pressed metal counters, and simple excellence of Huxtaburger HQ. But this time, you can also count on a few extra chairs and the tofu burger that's wangled its way onto the menu of late. "We made some compromises this year," co-owner Dante Ruaine tells us. But there's still no wholemeal bread. They have high (calorie) standards and that's what makes them the best.
Venue name:
Huxtaburger II
Address:
Fulham Pl
Melbourne
3000