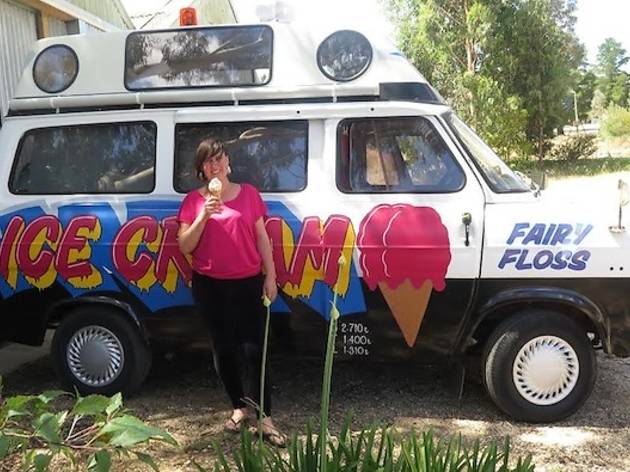 Time Out says
You'll be wanting to chase this ice-cream truck around Castlemaine
A new dairy-lovin' initiative from Helen Addison-Smith. You'll perhaps know Helen as the pastry chef (and partner) at Loafer Bread in North Fitzroy, or from Each Peach in Brunswick East. Now she's trucking her own ice-cream concoctions around Castlemaine. She moved up to Elphinstone – 12 kays away – last year for the more mindful lifestyle, and found quite a community in her arty neighbours. A couple of them – Craig MacDonald and Tim Ratcliffe – are her partners in Icecream Social. Helen works her alchemy in the kitchen of the Elphinstone Hotel and touts ice cream, gelato and sorbet at local farmers' markets.
In turn, the locals are enthusiastically donating their squishy, war-damaged fruit – the soft white peaches of Mount Alexander Fruit Gardens were a unanimous hit. "Otherwise what do you do with that stuff?" Helen says. "Making jam has its limits."
Despite concocting such screamingly popular flavours as strawberry rose sorbet, choc mint cookies 'n' cream, mango yoghurt, Harcourt apple crumble (this! this!), apricot cheesecake, cappuccino, and 'gold digger', Helen declares herself to be an autodidact, learning from the internet. She's being modest, of course, and will concede: "You need to know what sugars do, what fruit does, what heat and cold does – that kind of knowledge is all transferable.
"Mostly it's not bad," she muses of risky flavours like avocado… "unless you count the time I made durian ice cream. Someone told me it tasted like licking the footpaths of Bangkok."
At present, the batches are small, and Helen reckons she'd like to keep it that way. "If someone has a box of bananas, we can make five litres," she says, "and we can custom-make ice-cream for people's birthdays and stuff. That's the kind of cycle that we dream of."
Next on the list is wild blackberry sorbets, and then Helen's business will probably wind down as we head into autumn (although, the Frigomat 45 combo can turn its talents to jam and custard). They'll be back with a vengeance the following summer, with plans in place to be stocked in shops in both Castlemaine and Melbourne.
Where to catch them now? Follow the ice-cream van's path on Facebook! You can also use Facebook or email (icecreamsocialcastlemaine@gmail.com) to place your orders.
"Our next dream is to get the machine in the truck so that we're completely mobile and able to make ice cream on site," says Helen. "Imagine, churning it out at Meredith."
Details
Users say