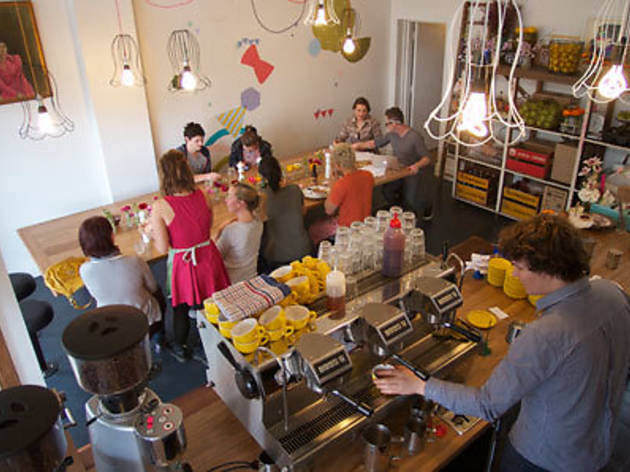 Time Out says
John Gorilla provides West Brunswick residents a basic human right - access to good coffee
Not having a café within a block of your house in Melbourne means you live in a slum. Which is most likely why West Brunswick residents rallied to the cause when John Gorilla's owner, Joanna Wilson (an original owner of the marvelous Mart 130 café in Middle Park), posted on online fund-raising platform Pozible to help finish building her first solo venture. She rapidly raised almost $7K to get this gorilla swinging, and it's been pretty much packed – with pledgers and grateful passers by – since.
Spilling over two rooms, with an Astro-turfed back garden and a few footpath perches, John Gorilla is a bright beast with décor pulled straight from your favourite Pinterest page. It wouldn't be Brunswick without a few vintage features thrown in - in this case, fabric rulers – with navy blue banquettes and fresh colourful flowers falling on the right side of sweet without straying into twee territory.
They're a friendly, welcoming bunch here. Which means you may find yourself sharing digs with dogs, and a few pre-schoolers –especially on a weekday lunchtime.
As for the food, chef Shane Beazley has created an appealing menu to cover all bases. Go a hangover-easing all day brunch dish such as poached eggs easing over a serious stack of rough potato hash with kaiserfleisch (thick-cut cured pork) and cabbage fried up with shallots and sherry. Or dunk into boiled eggs with prosciutto wrapped asparagus soldiers.
Lunch may be mostly salads and sandwiches, but to quote the great rissole-loving Darryl Kerrigan, "it's what they do to them that makes them so special". The roast chicken sandwich with sage stuffing is especially worth seeking out, or hit one of the rotating salads like charred corn and beans with a dollop of skordalia – a Greek dip of garlic pureed with loads of oil and potato.
Coffee hits the controversial $4 price point, but it's an expertly prepared Padre bean brew, and hell, it's not only the best, but the only option around.
At last, there's a cool Brunswick café worth going west of Sydney Road for – we have no doubt local real estate agents will be beating their chests about John Gorilla in their pre-auction babble. It's a winner.
Details