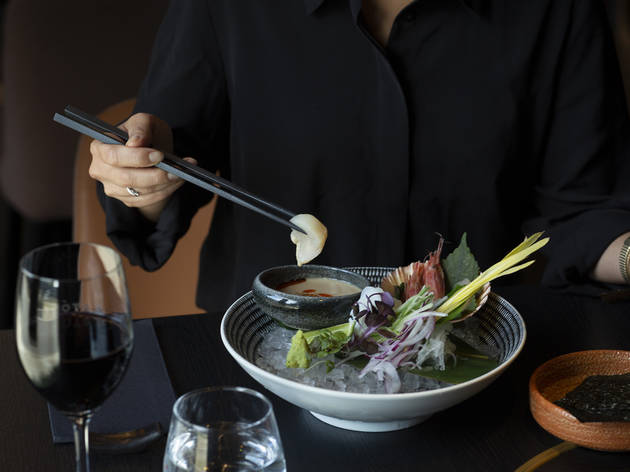 1/15
Photograph: Nathalie Saldumbide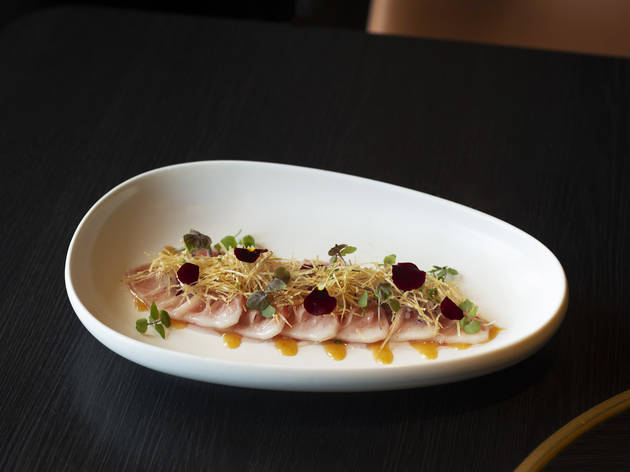 2/15
Photograph: Nathalie Saldumbide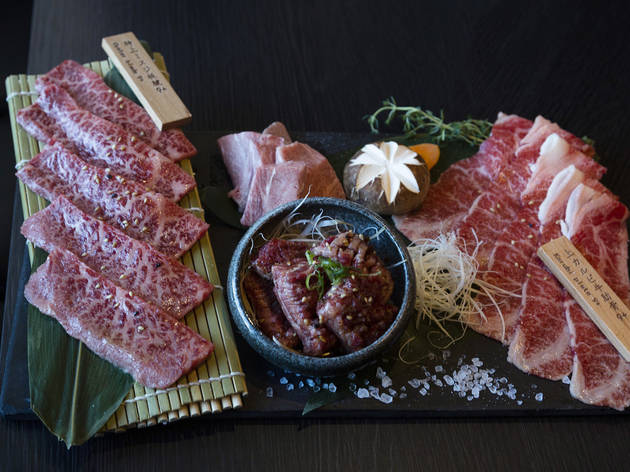 3/15
Photograph: Nathalie Saldumbide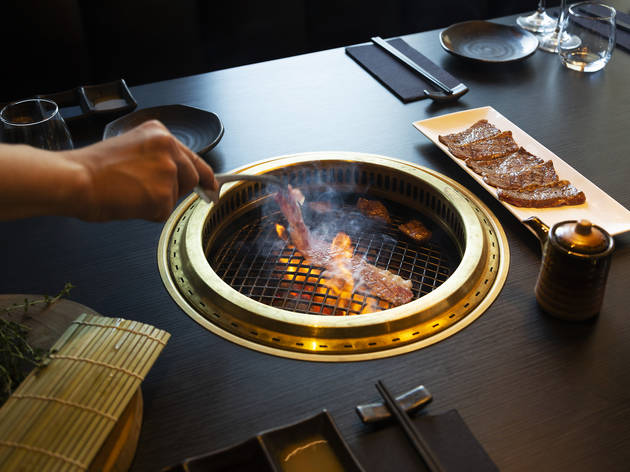 4/15
Photograph: Nathalie Saldumbide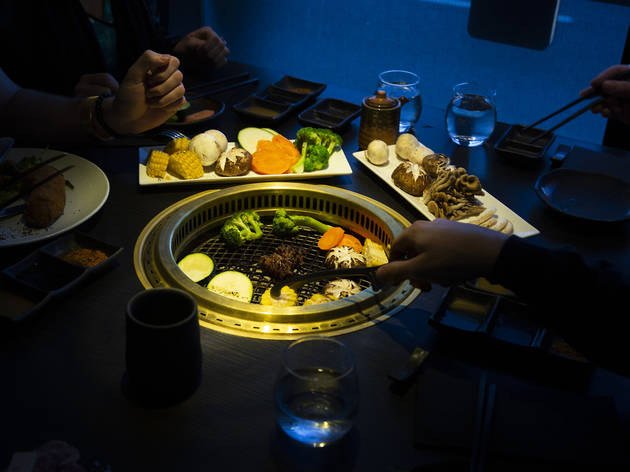 5/15
Photograph: Nathalie Saldumbide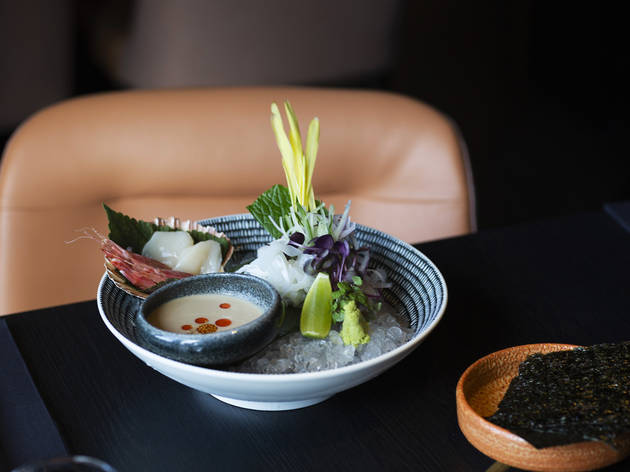 6/15
Photograph: Nathalie Saldumbide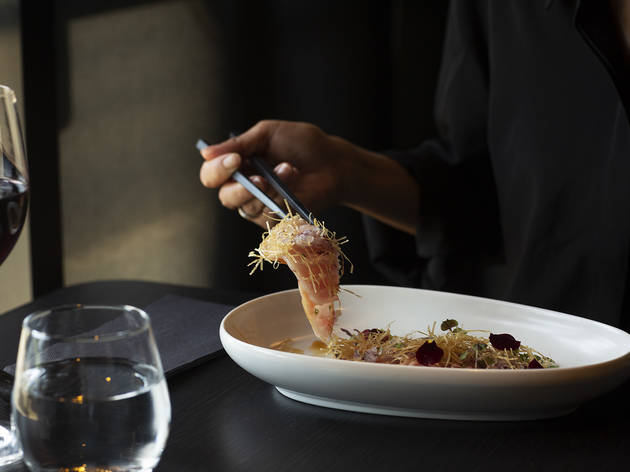 7/15
Photograph: Nathalie Saldumbide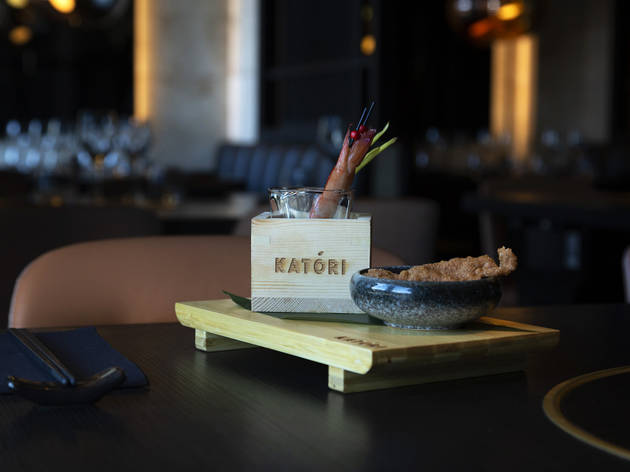 8/15
Photograph: Nathalie Saldumbide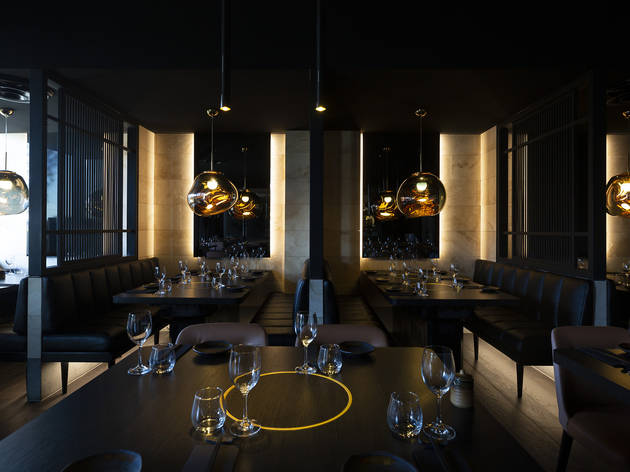 9/15
Photograph: Nathalie Saldumbide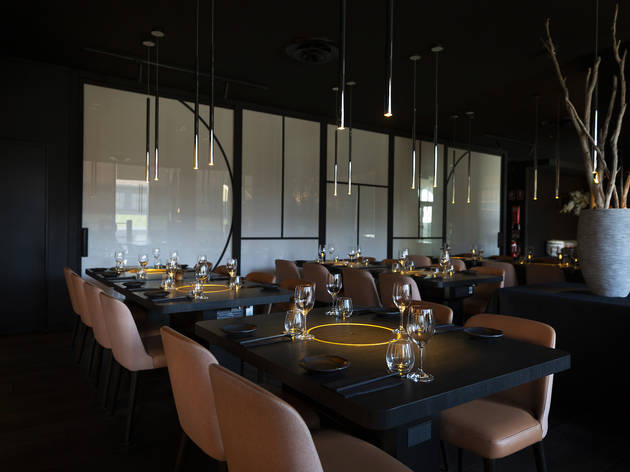 10/15
Photograph: Nathalie Saldumbide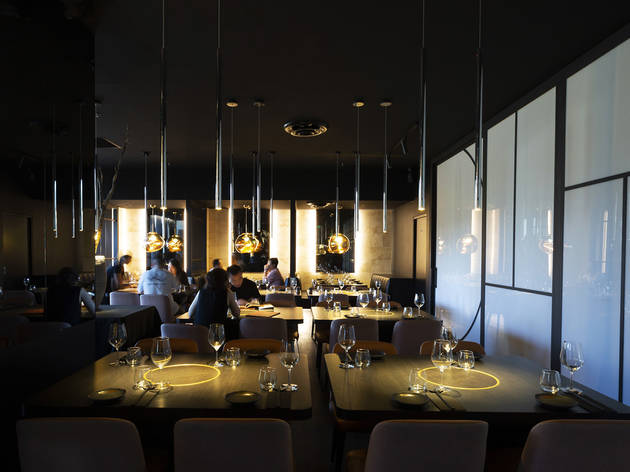 11/15
Photograph: Nathalie Saldumbide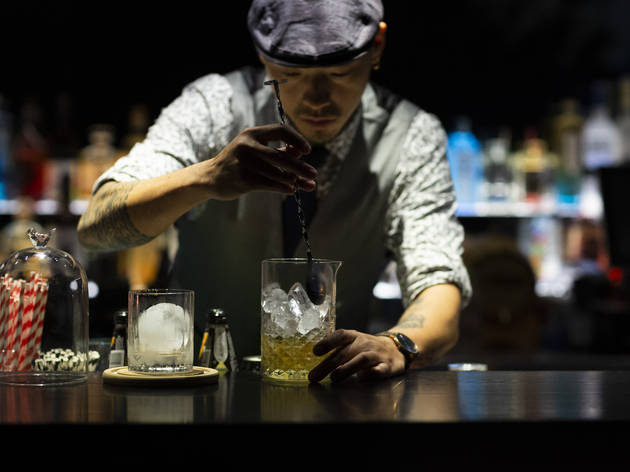 12/15
Photograph: Nathalie Saldumbide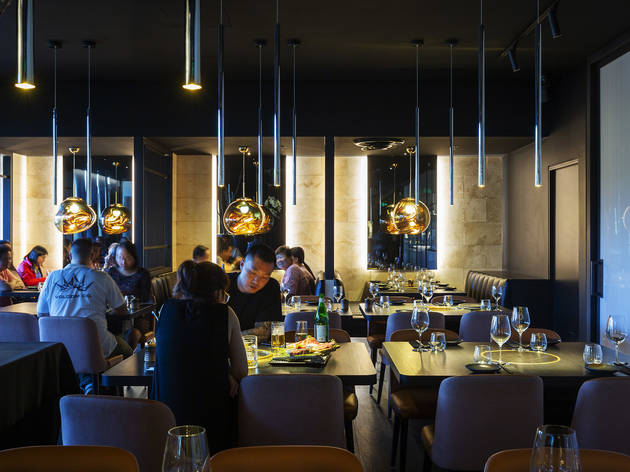 13/15
Photograph: Nathalie Saldumbide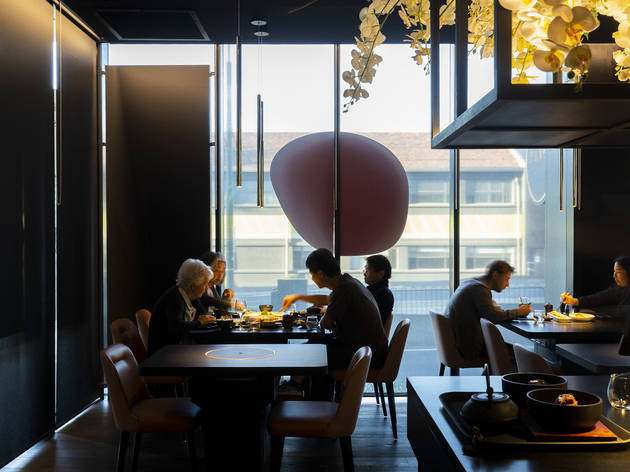 14/15
Photograph: Nathalie Saldumbide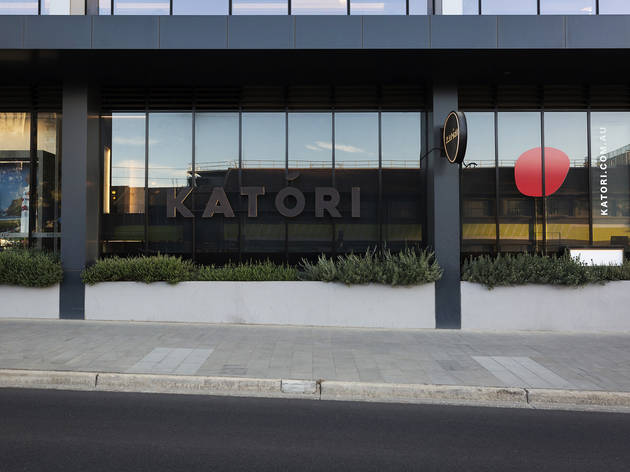 15/15
Photograph: Nathalie Saldumbide
Time Out says
It's upmarket DIY cooking at Box Hill's wagyu temple Katori
What are your thoughts on being left in charge of the cooking at a restaurant? Is it a culinary case of self-actualisation, or the equivalent of setting a sugar-loaded toddler loose in an art gallery with a Sharpie?
Restaurants are becoming bolder about factoring customers' appetite for challenge into their business plan. And food-obsessed Box Hill, that rapidly densifying alternative to Melbourne 3000, is now a place to try the ultimate challenge involving the keywords "wagyu" and "DIY".
Housed at the Chen Hotel, Katori is a luxe world of soft jazz and dark hues. A swish fitout by Melissa Collision Design – a finalist in the Eat Drink Design Awards – makes the most of this unlovely part of Box Hill, blocking out Whitehorse Road with opaque blinds and putting the focus squarely on the Tom Dixon pendant lights and the grill plates inlaid into each table.
Do-it-yourself barbecue in Japan is known as yakiniku. And the process goes something like this: you choose your meat (backed by a shorter list of seafood, pork, chicken or veg) from a menu that's like the Rosetta stone of wagyu, all cuts and marble scores and country of origin. Wait for glowing coals to arrive in a little rolling cart the size and shape of Star Wars' R2-D2. Watch as the grill is seasoned by the waiter with a puck of wagyu fat. Let the coals glow some more. Then roll up your sleeves and let the real work begin.
Much like the Dainty Sichuan group's Rising Embers, Katori espouses a new school of DIY grilling: prime ingredients, with servers there to act as a safety net lest the expensive beef be cremated rather than cooked.
It's a beguiling proposition for the barbecue-literate. But unlike at Rising Embers, there's a dearth of staff to nursemaid you through the process. And as sweet and smiling as the waiters are, there's no information available about the producers of the much of the beef despite numerous questions.
A marble score 9 platter of unidentified Japanese wagyu – it's $89 – arrives with little wooden pegs identifying the different cuts. The chuck roll is a little chewy, but the tri-tip, karubi (boneless short rib) and striploin live up to the meat's buttery, melting reputation (a general rule of thumb seems to be 10 seconds on the grill). On the side there's a plummy yakitori sauce, a yuzu butter and togarashi (a Japanese mixture of seven spices), along with a wedge of lemon.
They're all you need, but the grill is only half the Katori story. An a la carte menu runs alongside the yakiniku, swinging from straight-up classic sushi and sashimi served at the perfect temperature to dishes walking a more outré line thanks to executive chefs from Nobu and Sake.
Tataki of toro – tuna's rich, fatty belly – is busy but still deliciously present under a thicket of fried leek and a powerful yuzu kosho miso sauce. But the only rational response to the "king prawn ponzu", featuring a skewered raw prawn of impeccable creamy quality, a glass of ponzu dressing and thick prawn cracker, is confusion. It's like a koan in food form: a riddle designed to reveal your personality through the way you tackle it. A signature dish of raw calamari noodles with sweet little red shrimp and scallops is just as playful but more successful, with red onion and corn fronds to tuck into little nori sheet packets before dipping into a white sesame dressing.
So what's the take-home from Katori? Some diners will feel short-changed over what is not a cheap night out. Others will think it's the most fun since they first queued at Gelato Messina in 2008. But for any card-carrying member of the tong tribe, it's all in the grill.
Details
Address:
G01,850 Whitehorse Road
Box Hill
3128

Price:
$$
Menu:
View Menu
Contact:
Opening hours:
Tue-Sun 6pm-10pm
Users say