Melbourne Hwaro Korean BBQ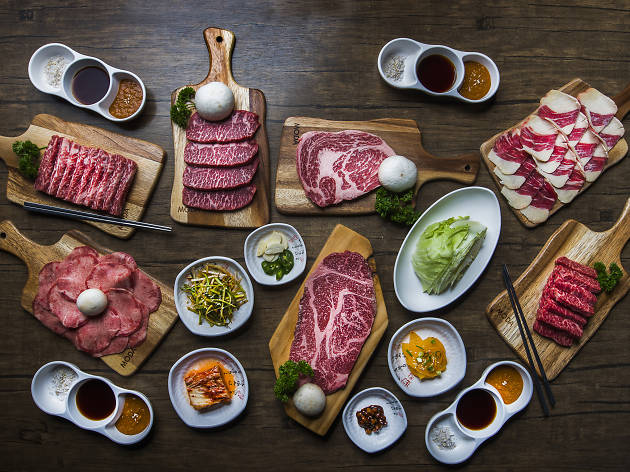 Time Out says
You are the grill master of your own delicious destiny at this inner city barbecue party
Everyone knows that meat grilled over charcoal is exponentially more flavoursome than other forms of cooking. Yes, a gas barbecue will get the job done, but there's an extra smoky depth that can only be achieved when charcoal is your fire-power.
And this is why we love Hwaro, the Korean barbecue joint on Little Bourke Street. Here, you do your cooking over individual cast iron pots filled with red hot coals that they bring out to your table (this is a restaurant where you always want to be looking where you're going).
It's not Korean barbecue without beef ribs (gal-bi), and here you can order them thin and bony, standard cut, premium marble or top grade. You unfold the marinated rib meat from around the bone before you put it on the grill plate and it cooks quickly and evenly, with the perfect amount of char on the outside.
If you're new to Korean barbecue this is a great place to start because here they'll pop your meats on the grill, flip it and slice it when it's ready if you prefer being a passenger. If you want to captain your own dinner cruise, you go right ahead.
The smoky room is half the appeal of a night of individually cooked meats to order, and you will carry that smell home with you. This also means that if you arrive starving the aroma of caramelizing marinade is sweet torture, so order a serve of long, golden-fried dumplings and a Hite pale ale right off the bat.
Your banchan – the little side dishes that arrive with your meal and provide the same joy on reveal as an advent calendar – include softened bean sprouts, finely diced green onion, a fragrant but not overly hot cabbage kim-chi and iceberg lettuce – each one adept at cutting through the rich, charred fat and caramelized meat on the pork ribs, another essential order. Order some pork belly, or for a leaner option the spicy chicken thighs are tender and juicy – we didn't regret any of our life choices.
Korean barbecue is a simple joy. Thin sliced meats marinated in a mix of soy, sugar, garlic, sesame oil, pepper and green onion, cooked over hot coals and eaten hot off the plate. It's communal dining at it's most inclusive. Everyone gets a turn, there are six-buck beers and no one has to clean up. It's the best barbecue ever.
---
Details
Best selling Time Out Offers