Merry Cupcakes & Slice Up Your Life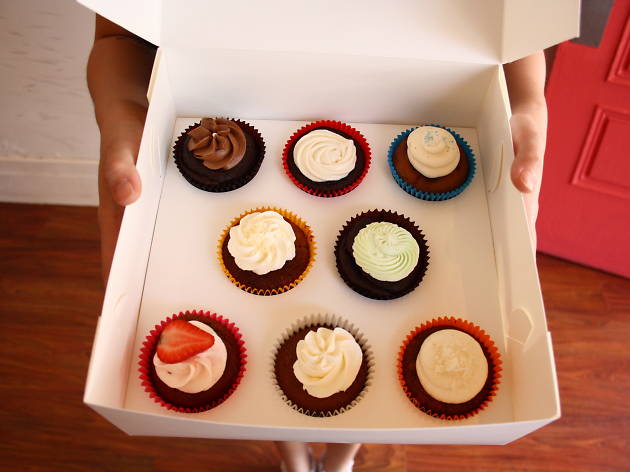 Time Out says
Friendly warning! We're working hard to be accurate. But these are unusual times, so please check that venues remain open.
Healthy cupcakes (and now slices!) on Brunswick Street
If you're vegan or lactose intolerant and don't know about Merry Cupcakes, then congratulations: you do now. Since 2012, Mary Lin has been providing a valuable service, baking all sorts of delicious cruelty-free cupcakes that taste just like the butter-filled kind (or even better!). Now she's gone one step further, turning half her store into Slice Up Your Life: a vegan slice shop.
Every month, Mary will be switching up slice flavours. For her first batch (which opens on Saturday October 8), she's got all sorts of wonderfully named creations. We're particularly excited to get our hands on the Silence of the Lamingtons (no need to explain there), Liz Lemon (lemon and coconut), This is the Last Straw(berry) (strawberry spelt) and Harry Zouchini (zucchini brownies).
And that's not even the full selection. Head on over on Saturday to try them for yourself. Have a slice or two, and a cupcake for good measure.
Review: Merry Cupcakes
We're big fans of cupcakes at Time Out. Especially when we can buy a baker's dozen without the guilt. Don't get us wrong, cake is cake and your doctor's not going to invert the food pyramid in their favour any time soon, but if you're going to fall into a display cabinet one way or another, Merry Cupcakes offers a better solution to your sugar craving than most joints.
The owner of this pink and blue frosting shaded house of miniature desserts is Mary Lin – a nutritionist who is pulling all of the stunts your mum used to. Y'know, stray husks in the flour, reduced sugar, and avocado in the chocolate icing to add creaminess without butter. In fact, there's no butter, or any dairy at all in any of the cakes. Soy milk and Tofutti replace milk and cream cheese, and Nuttelex (nut-based margarine, low in saturated fat) replaces our favourite golden heart clogger.
On the one hand, the dairy-free desserts are less likely to send you peaking off your brain in a haze of sucrose and butterfat, by that same token, they're less likely to send you crashing into a post-binge fugue. We prefer the more heavily flavoured gear – a rich chocolate-avocado number, or zucchini cake – where cocoa, or spice and heavy vegetable content conceal all evidence of the sometimes waxy taste of Nuttelex. Subtle flavours – vanilla and strawberry are still admirably cakey, but the sleight of hand is easier to spot.
Coffee's not the strong point here, but nor is it the focus, so while there's a couple of long communal benches if you want to prop it up with a mint-chocolate morning snack, we prefer to take our dozen somewhere private.
Details
Address:
261 Brunswick St
Fitzroy
Melbourne
3065

Contact:
Opening hours:
Mon 11am-5pm; Wed-Thu 11am-6pm; Fri-Sat 11am-9pm; Sun 11am-5pm