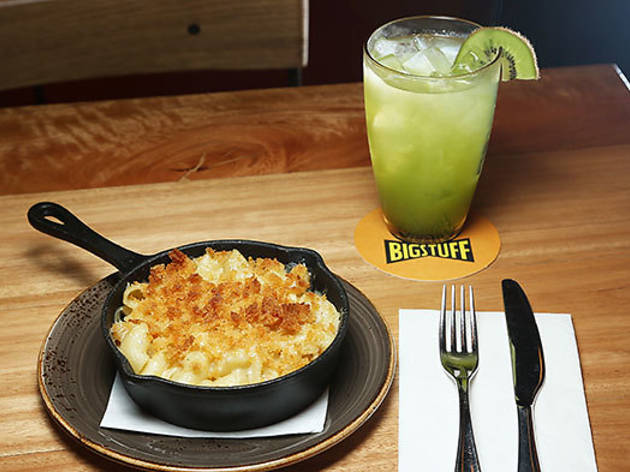 1/14
2/14
3/14
4/14
5/14
6/14
7/14
8/14
9/14
10/14
11/14
12/14
13/14
14/14
More American comes to the CBD, this time with some soul flavour
In case you're unfamiliar with soul food, back in America it means huge piles of fried chicken, black eyed peas and collard greens heaped onto trays. Picture the joint where Aretha Franklin cuts sick on Matt "Guitar" Murphy in the Blues Brothers.
Ms Franklin gets a play at Mr Big Stuff, a new soul-inspired restaurant in Meyers Lane, but this is much more of a white collar take on blue collar food. For starters your chef Louis Naepels is Italian, and ex-Grossi Florentino, meaning your greens are actually wilted kale, tossed through with sweet potato and pecans and served in a fancy bowl.
It also means 'Kool-Aid' cocktails made with fresh pressed juices. We know. Total blasphemy. We can't deny the savoury refreshment of strawberry juice, lemon, soda and gin, but we still secretly want to trash out with grape drank. Satisfy you inner rough diamond with PBR cans instead. On a Thursday, you might see a whole table of chicks in hoodies knocking back the USA's favourite cheap frosties along with chewy pig's ear crisps, and ox tail sliders while DJs spin TLC, Ray Charles and James Brown. Music is a key part of the business model. Two walls are covered in sound waffling so they can crank soul and hip hop on the weekends.
Naepels' food is definitely bringing the tastiness. His fried chicken batter is on the flaky side, but it's got plenty of secret herbs and smoky spices. Your stack of legs and thighs comes with fat rosemary waffle quadrants, all doused in maple syrup. Unsurprisingly, the Italian chef nails mac and cheese. He amps his sharp-and-creamy skillet of big pasta elbows and fried bread crumbs with black pepper. You can't lose.
Strangely, each dish comes out one by one like a degustation of sides, which makes it hard to get into the pile-it-all-up soul food spirit. Next time we'll ask to have our fluffy, buttery disc of corn bread delivered with the blackened snapper. It's a winner dish bar some chalky black-eyed peas – coriander seed and cumin go into the charry rub, which contrasts against a bright, creamy clam liquor.
Apple pie, however, translates as four chewy pastry pockets filled with smooshy apple and thickly crusted with cinnamon-sugar. It's a fiddly update that doesn't really beat the original for us.
Speaking of us being kill joys – and take note, everyone here is having a good time – but we're not sure the five Melbourne owners are giving a masterclass in cultural sensitivity. The '70s soul theme accounts for images in the toilets of Stevie Wonder and to an extent the stills from Blaxploitation flicks. But add in Michael Jordan, slogans like "I get more ass than a toilet seat", $700 bottles of Armand de Brignac Champagne (aka the 'Ace of Spades' – Jay Z's fave) and coasters depicting Fat Albert in an Oakland Raiders helmet and it all seems a little random. But hey, maybe we're just a bunch of wowsers.
Venue name:
Mr Big Stuff (closed)
Contact:
Address:
16 Meyers Pl
Melbourne
3000

Opening hours:
Mon-Sat 6-11.30pm
Transport:
Nearby stations: Parliament