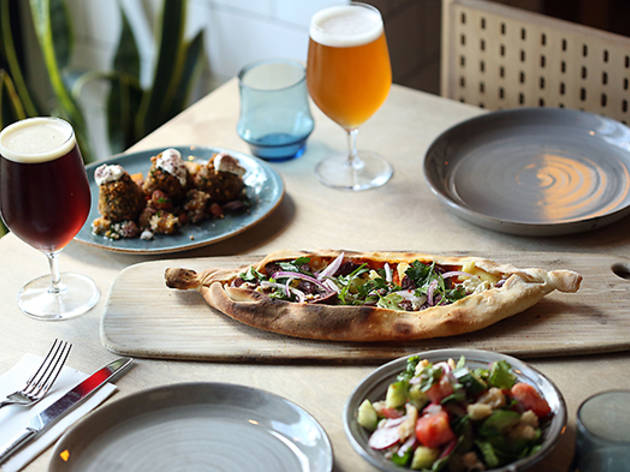 Time Out says
Middle Eastern fare comes garnished with a sea breeze in Port Melbourne
Port Melbourne has a lot to offer those in need of a bit of vitamin D and a short escape from the concrete jungle: Mr Lawrence, for example. This pub restaurant is all about the warm weather and begs for the quaffing of light wines, bright beers and fresh cocktails, which all bubble forth here like a desert oasis.

The whitewashed building with bright yellow awnings recalls lazy afternoons in Casablanca, helped by the tall palm trees that line the adjacent shore. If the sun's out, you'll want to be outside, soaking in the rays, the sea air and the view of the ships gliding peacefully along the harbour. Thick wooden tables are sturdy and broad enough for communal eating and drinking, and bright yellow umbrellas keep the sun at bay. There's full table service outside, but you're better off ordering at the bar inside where you're less likely to be forgotten.

The lengthy menu is Middle Eastern-inspired with plenty of veggo choices. Snacks include house-smoked trout with a lively salad of fresh herbs, capsicum and pickled cauliflower. There's Turkish-style pizzas and bigger plates like tender slow cooked lamb with a hint of preserved lemon and plenty of earthy spice. While the lamb and the pizza could both use more of that preserved lemon, tender chargrilled baby octopus with a bright salad of olives and roasted capsicum is right on the money. This is the kind of pub fare that will have you walking out feeling vaguely healthy.
The beer list strives for quality over quantity, and gets there fast. Taps include Quiet Deeds pale – more honey and nuts than the fruit and flowers of many craft pales – and Boatrocker Hop Bomb IPA, another example of the brewery's penchant for balance with hints of lemon verbena where others rely on truckloads of bitter hops. There's also a rotating guest tap and beer flights for the curious/indecisive. The 2012 Domaine Les Fouques rosé by the glass is exactly the peaches-and-cream style you'll want in the sun. It's backed up by a great value list with heaps of by-the-glass options. A cocktail special of gin, elderflower, mint and sparkling is simple, fresh and well balanced.
The venue's namesake, TE Lawrence, was the daring British officer who united Arabian tribes against the Turks in WWI. His remarkable success stemmed from immersing himself in Arab culture. Similarly, Mr Lawrence places fresh Middle Eastern flavours and décor in the very British shell of a pub called the London. Watching the sunset over the water here, beer in hand and hummus in belly, you'll find it a culture mash worth saluting.
---
Details
Best selling Time Out Offers