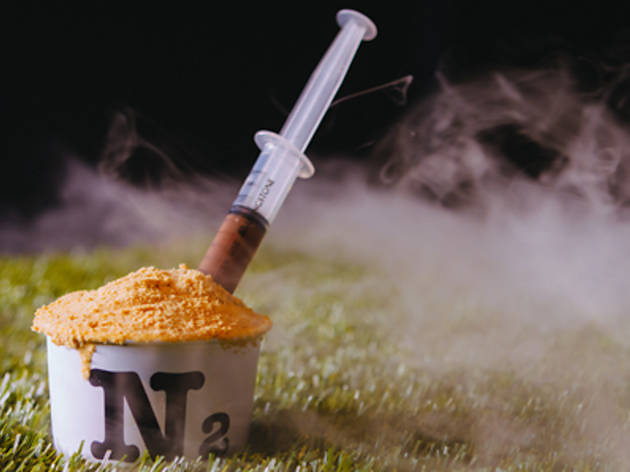 1/19
2/19
3/19
4/19
5/19
6/19
7/19
8/19
9/19
10/19
11/19
12/19
13/19
14/19
15/19
16/19
17/19
18/19
19/19
Holy gelato! It's an invasion of the Sydney ice creameries!
If you've just regained your composure after learning that Sydney ice cream palace Gelato Messina is incoming, get ready to lose it again for N2 Extreme Gelato (another Sydney import - quelle horreur!). It's the sciency ice creamery started by ex-accountant Min Chai, where freaky flavours like SPAM and mustard are frozen on the spot using KitchenAids and iquid nitrogen. It's like Scienceworks for deliciousness.
When he started his Sydney store, Chai told Time Out Sydney: "A lot of shops keep the gelato in the freezer for weeks so they don't have the freshness of the product. By doing it this way it replicates the beautiful moment when it first comes off the churn."
On a Friday night, a three-deep crowd of punters is pushing to watch as their popcorn ice cream goes from flavoured liquid base to gelati in a puff of magical fog. It's pretty amazing. The gas billows out over the benchtop as the liquid nitrogen from huge tanks is added to the churning mix.
AstroTurf benches and K-pop vocals are the only artificial things here too. That SPAM flavour is genuinely a milk base infused with tinned meat. We're promised it's genuinely meaty, but we go for a tub of milk gelato topped with a big hunk of peanuts in a sticky, salty miso caramel. It's the creamiest, freshest and meltiest gelato we've ever tasted. If you want to get your hands on the creme bruleé (you do, it comes with a proper blow torched toffee crust), you'll need to get in pronto. The flavours change every Thursday. That's only seven days of black lava salt ice cream.
Expect a wait – each tub is made fresh, and the queues are growing. Still, the team is working like an efficient ice cream army, and waiting to watching the show is part of the charm.
Get in and go nuts.
Venue name:
N2 Extreme Gelato
Contact:
Address:
329 Brunswick St
Fitzroy
3065

Opening hours:
Daily 1-11pm