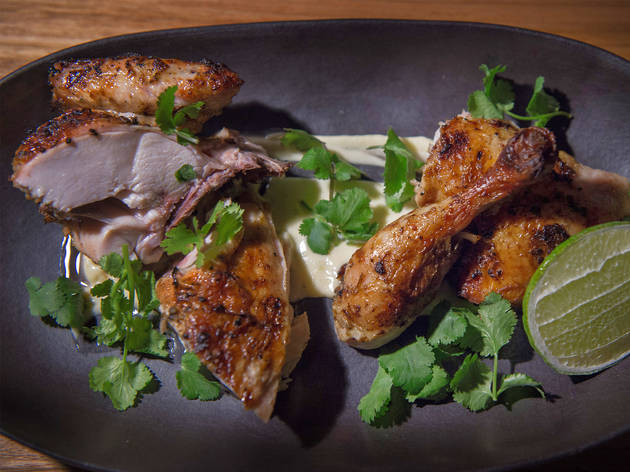 1/8
Photograph: Vince Caligiuri
2/8
Photograph: Vince Caligiuri
3/8
Photograph: Vince Caligiuri
4/8
Photograph: Vince Caligiuri
5/8
Photograph: Vince Caligiuri
6/8
Photograph: Vince Caligiuri
7/8
Photograph: Vince Caligiuri
8/8
Photograph: Vince Caligiuri
Time Out says
Pretty Mama is the island holiday you need before hopping on the train home
A big smile and the smell of charred jerk chicken greet you at the door to Pretty Mama. It's the kind of spot that lifts your mood instantly after being sliced through with Melbourne wind. Old, old reggae lilts easily through the air while potted palms and cool pastel colours calm the grumpiest heart down to island speed right away.
Sitting up at the comfortable concrete bar you can watch the guys in the immaculate open kitchen, clad like the rest of the crew in tropical print shirts, cranking out a variety of excellent Caribbean inspired dishes. Michael Cotter, one of the owners, is also responsible for the impressively authentic Po Bo Quarter. After his mission of discovery to the Caribbean last year, you can count on this food sticking close to the original flavours of the islands.
The menu is designed for sharing, but a $45 set option is gladly provided even if you're dining alone, and it's a bargain. Creamy spanner crab remoulade doesn't overpower the starchy, savoury fried plantain beneath, and grilled veggie croquettes are spicy and creamy, made infinitely better - like so many foods - with the simple inclusion of a wedge of fresh lime.
The bright, clear eyes of the snapper awaiting their fate beneath the grill are a testament to their freshness, and a huge cleaver sticking from a block of wood declares that the chicken will have bones, and they won't be treated gently. Of all the ways humanity has developed to prepare the meat of the humble chook, surely marinating, then char-grilling the tasty buggers is our crowning achievement. Here that grill is fired by wood, and the delicious birds that crisp above them absorb that smoke and char just right.
It's a blurred line between casual diner and bar here, and it's not one we're super keen on drawing; Pretty Mama works well as either. Drinks and service are both engaging enough to make this a great bar in its own right, and the food ranges well from bar snack to full meal. Cocktails are the purview of part owner Shae Silvestro, previously doing good things with tins at Brookes. Here, his drinks are creative yet simple and impeccably balanced, even the ones that read fruity sweet.
'Grapefruit' comes swizzle style in a tall glass of crushed ice and is dangerously easy to drink. The fresh bitterness of white grapefruit (a tragically underused ingredient overlooked for the sweeter pink variety) is balanced with flernum, a Jamaican allspice and lime peel syrup integral to many Caribbean cocktails. 'Passion Fruit' with condensed milk isn't as heavy as it sounds. A fluffy little saucer of Weiss bar goodness that's light and fresh enough to drink, it gets an added layer of complexity from good dark rum and spices. If you prefer to keep it simple, a stubby of Red Stripe is always welcome – think VB but way better. There are plans so expand the list to include rum and tiki classics, and who doesn't love a flaming cocktail?
Cultural appropriation is Melbourne food's favourite game these days, and if authenticity is what you seek, BAX in Seddon is probably a better bet. But this white guy version is modern, considerate, and bloody tasty. Jamaica this ain't, but it's still an easy place to be, and about as close as you're gonna get on Spencer Street. Big up.
Details
Address:
Upper West Side Hudson Building
220 Spencer St
Melbourne
3000

Contact:
Opening hours:
Tue-Thu noon-11pm; Fri, Sat noon-1am
Users say