Red Spice Road is giving away a lifetime supply of pork belly
Enter the competition now to win a month, a year, or a lifetime's worth of the mod Asian eatery's signature dish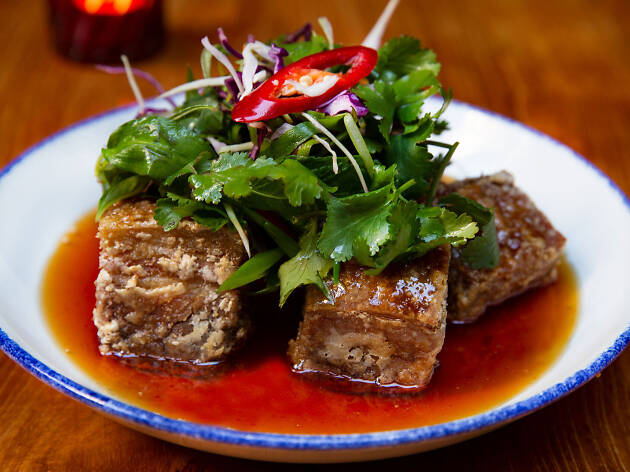 Red Spice Road's pork belly is something of a cult dish. It's been a best-seller since the South East Asian eatery opened in Melbourne in 2007 and is so popular it caused a minor uproar when it briefly disappeared from the menu. Last year, the kitchen served up 40 tonnes – 40 tonnes! – of the crisp, twice-cooked nuggets, their richness cut through with a simple black vinegar and topped with a tangy apple slaw.
It's clear diners just can't get enough of the stuff, and so Red Spice Road has decided to give one lucky punter a guaranteed supply of the sought-after dish in perpetuity, claimable at either the McKillop Street location or sister restaurant Burma Lane. That's right, we're talking pork belly for life, where nothing is certain except for death, taxes and now delicious, fatty pork snacks.
Here's how it works: enter the competition online for a shot at winning one of the three prizes on offer. First is a monthly serving of pork belly until the end of your epicurean days. Second is a fortnightly serve of pork belly for one year (that's 26 servings) and third prize is a weekly dish of pork belly for one month, which is still enough to make you the most popular person you know for a couple of weeks.
The competition closes on Friday July 12, so head over to the website and enter now. Winner, winner, piggy dinner.