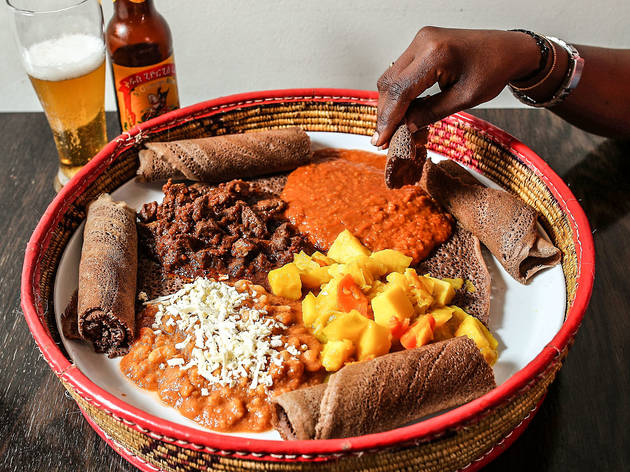 1/8
Photograph: Graham Denholm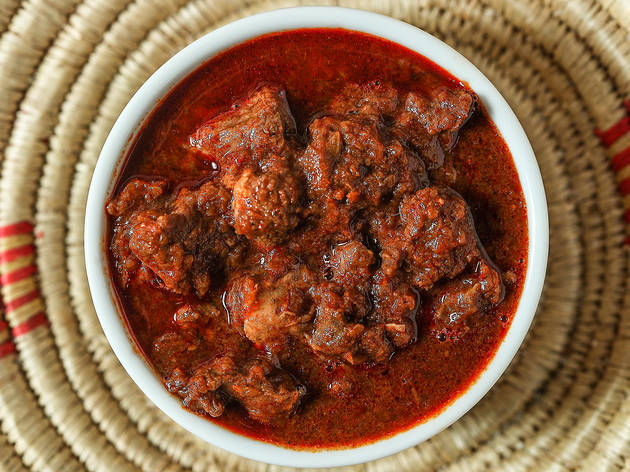 2/8
Photograph: Graham Denholm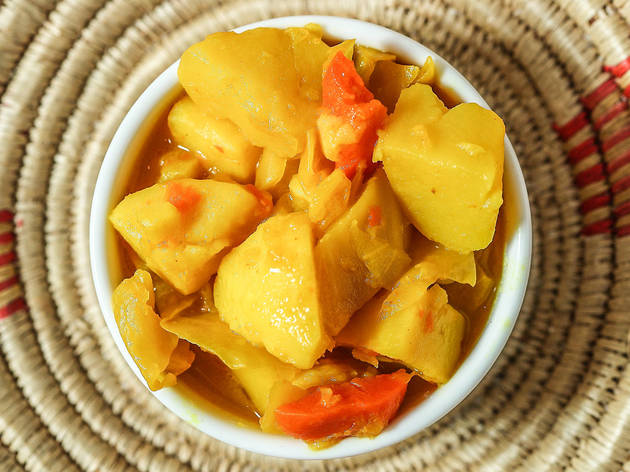 3/8
Photograph: Graham Denholm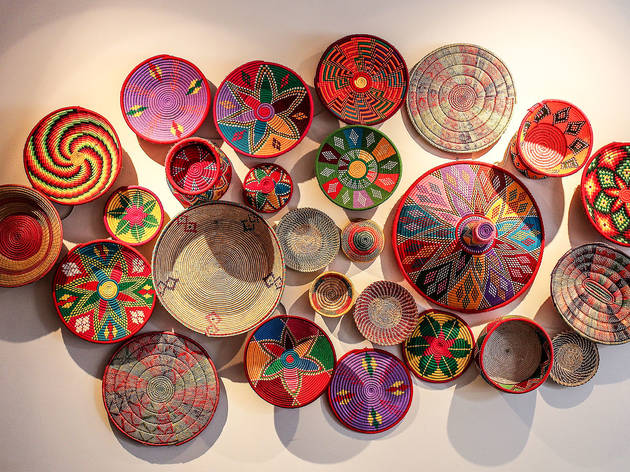 4/8
Photograph: Graham Denholm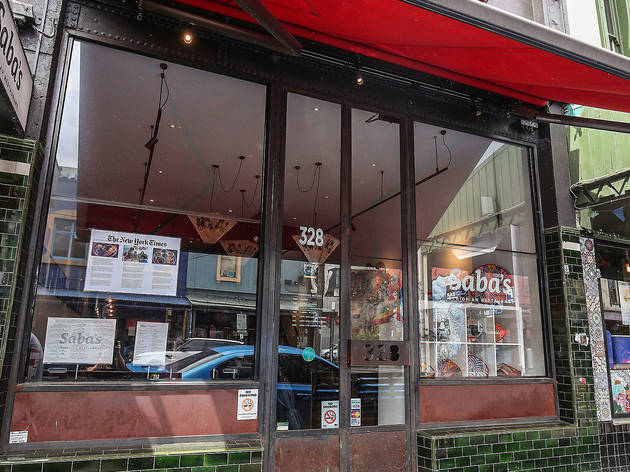 5/8
Photograph: Graham Denholm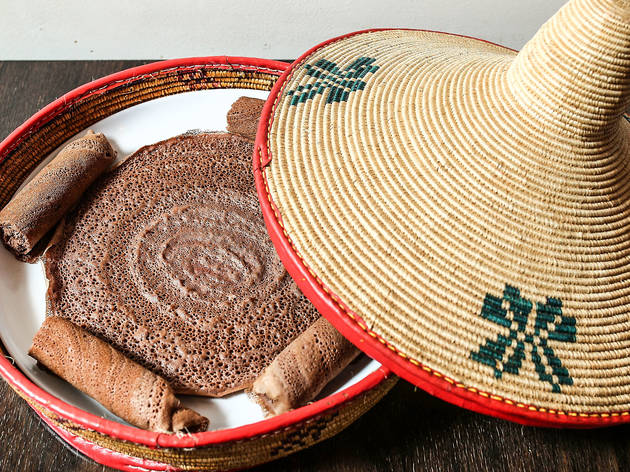 6/8
Graham Denholm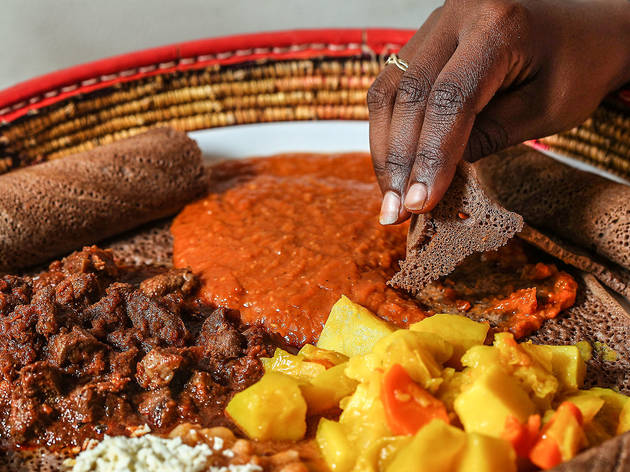 7/8
Photograph: Graham Denholm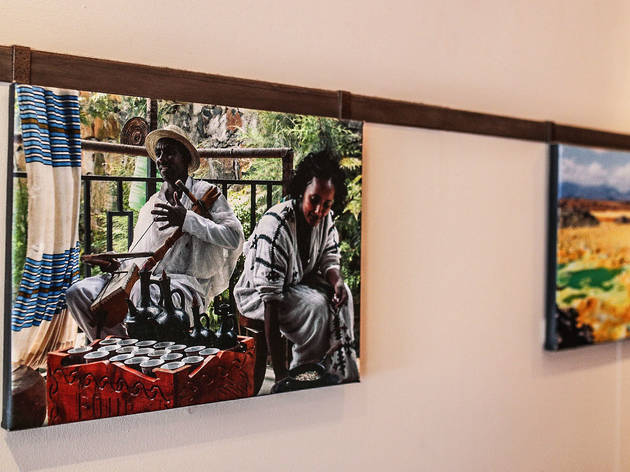 8/8
Photograph: Graham Denholm
Time Out says
Time-honed family recipes and a powerhouse mother-daughter partnership make Saba's a standout in this part of Fitzroy
Fermented, communal, gluten-free, minimal waste – based on trends and buzzwords alone, Ethiopian cuisine should be the hottest ticket in town. In hip-and-happening Fitzroy at least it may very well be, with Saba's packed to the hilt on a Friday night with everyone from young vegan lovebirds to chatty family gatherings.
They're all here for the earthy pulses, rich stews and bubbly injera cooked by Saba Alemayoh's mother, Tekebash Gebre, who puts in the hours on the pans while her daughter manages the floor. For the last five years their homey restaurant has been a jolt of colour on this stretch of Brunswick Road, better known for its many pubs and late-stage gentrification.
For those not already plugged into Melbourne's thriving Ethiopian scene, the cuisine is centred around injera, a bouncy flatbread made from ground teff seed that's fermented until spongy and possessing of an unmistakable tang. Saba's is made from 100 per cent teff (many places use a flour blend) meaning the whole menu is also a coeliac or gluten-avoidant's safe space. Injera acts as both carb and cutlery, used to scoop, swipe and mop every last bite.
A one-woman powerhouse, Saba socialises with regulars, handles orders and deftly guides confused newbies with wit and charm. It does mean that things here take time, with long stretches between entrees and courses not uncommon. So don't come here if you're in a rush. Do order some entrees post-haste, and by jove, pace yourself on the Ethiopian lagers. Consider crisp, poker-hot florets of teff-battered cauliflower but don't hesitate on katania, an after-school snack constructed simply from triangles of steamy injera sandwiched with chilli butter. The lightly sour bread, dripping from each pore with bright red grease, is Flavourtown with a capital F. Fairy bread, you should be ashamed of yourself.
When mains do arrive, it's a spectacle. Every dish is upturned onto a colourful, injera-lined basket – veggies, stews and all, next to each other in a wheel of delicious fortune (so hark up early if there's a strict dietary on board). With the subtle, tart twang of injera the constant in every mouthful, it's best played off against a variety of textures. A winning vegetarian combination is found with split red lentils cooked down into a heavily-spiced paste followed by the bright crunch of garlicky Chinese broccoli and ending with creamy, cumin-y ful – a Sudanese dish of stewed fava beans fortified with chopped boiled egg and shavings of feta.
Beef fried in pepper butter and lamb tossed with slippery okra require a little extra jaw work, so next time simply order the showstopping tel sebhi twice. Here, diced goat is slow cooked in a thick stew of tomato and onion dashed with berbere, an Ethiopian spice mix of chilli, garlic, ginger and a dozen or so other magic ingredients. Achingly tender, rust-red and richer than Croesus, it's over so soon you'll be fighting for that last bit of flavour-soaked injera beneath.
A happy side effect of Ethiopian-style dining is a dramatic drop in phone use at the table – turns out when you're eating with your hands you're less inclined to touch that particular germ crucible. Screen time down means engagement with your food and company up – no newfangled phone locker situation required.
With its prime location, charismatic proprietor and shiny appearance, Saba's has undoubtedly been many Melburnians' first introduction to North African cooking, and we have much to thank Alemayoh (also a rising community arts leader) for that. It's nice to know that when your belly feels its first rumble after a couple of beers at the Fitz or you've wearied yourself boutique hopping on Brunswick Street that the love of a mother's cooking, and her daughter's beaming pride in it, are never far away.
Details
Address:
328 Brunswick St
Fitzroy
Melbourne
3065

Contact:
Opening hours:
Tue-Thu 5.30–10.30pm; Fri-Sun noon–3pm, 5.30–10.30pm
Users say