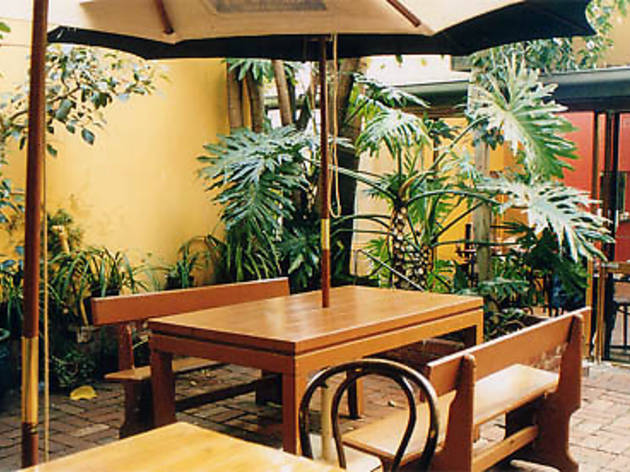 Shakahari serves up a strong argument for vegetarianism
Thirty years ago, Melbourne's vegetarians were the most put-upon people on earth. Condemned to live on twigs and bracken while all around them dined on veal parmigiana, their plaintive cries for decent food rent the air. Then came Shakahari, and they were saved. Suddenly, vegetarians had a restaurant they could take their parents to without embarrassment on both sides. Emaciated vegans stopped dropping dead in the streets. And once gluten allergies were invented, Shakahari had those covered too.
Shakahari, one of Melbourne's best vegetarian restaurants, is also one of its oldest, having been in its current location for the past 15 years. For another 15 years prior to that, it was just across the road, making the phrase 'local fixture' sound like something of an understatement for once. The present restaurant is a converted house, painted in warm tones and featuring Indian artworks (Shakahari, we're told, is Hindi for vegetarian). To the rear is a pretty garden area with seating for about a dozen, and the venue is scattered with little lived-in touches, like an undisturbed birds' nest in one of the bathrooms and a 'tip leaf' on the counter.
The food is an amalgam of Japanese, Chinese, Indian, Thai and Western influences. Try the 'scent of green papaya' – a shredded papaya salad with cashews, fried tofu and thin seaweed strips served with a slice of lemon for extra pop, or 'avocado dream' – their signature avocado-and-red capsicum tempura served in an emerald coloured coriander sauce. The menu changes subtly by season, and dishes are helpfully marked V for vegan, ND for non-dairy or GF for gluten free.The wine list is long and provides the added feelgood boost of being heavy on organic and vegan vintages. Finally, if you're able, save a little room for dessert. While the 'black and white pearls' (a porridgy sago and quinoa pudding garnished with walnuts) provokes divisive responses, the tofu caramel sprinkled with crushed pistachios and toffee chunks is anything but controversial. Bookings are recommended. Una Cruickshank
---
Venue name:
Shakahari
Contact:
Address:
201–203 Faraday St
Carlton
Melbourne
3053

Opening hours:
Mon-Thu 12 noon-3.30pm & 6-9.30pm; Fri-Sat 12 noon-3.30pm & 6-10.30pm; Sun 6-9.30pm
Price:
$50-$100