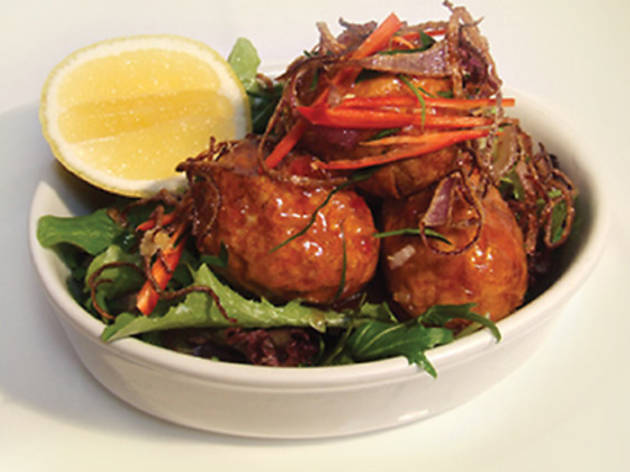 Good food and free parking – what's not to love about eating in the suburbs?
Siam 1 is giving the suburbs a good name with its elegant Thai food. Catering to a mostly non-Thai crowd, this restaurant has a sleek wine-bar feel with chocolate tones, ambient lighting (put your contacts in), pigeon-hole shelving packed full of wine, and a large golden Buddha statue.
The wine list is thoughtful and complements the heat and spice of the menu. Better still, a bottle of wine will set you back as little as $30.
The entrees are interesting, zippy little morsels. Four forest-green betel leaves are topped with prawns and lime and served with an intriguing sweet-and-sour, treacle-like dipping sauce. Battered soft-shell crab sits amongst a salad of zesty herbs and tiny matchsticks of crisp apple.
If you're a bloke and dining with your mother-in-law, be on your best behaviour if she orders the 'son-in-law eggs'. They're fried, coated in a sweet tamarind sauce, and legend has it they directly correspond to, er, 'down there'.
Mains are less adventurous but still impressive. They're also petite, so go ahead and order that extra dish. A green chicken curry comes with Chinese cabbage and a rich, coconutty sauce so good you'll want a straw. Slinky rice noodles are neatly packaged in a thin egg omelette, while a shredded papaya salad with tender calamari looks cool and refreshing, but harbours a sharp chilli sting.
Desserts have a Thai bent – think coconut, mango, sticky rice and banana. The pick of the bunch is 'sakoo longan', a subtle-tasting hot coconut soup filled with tapioca pearls, longan and teamed with vanilla ice cream.
Service is sweet and efficient, though at times it can feel rushed. This is a shame, because Siam 1 is an experience worth savouring.
---
Venue name:
Siam 1
Contact:
Address:
65 Koornang Rd
Carnegie
Melbourne
3163

Opening hours:
Thu-Sat 11am-3pm; Mon-Sun 5-11pm