Six masterclasses to help you ace it in the kitchen
Stun your next dinner party guests with new skills from the experimental kitchen of George Calombaris's Press Club Projects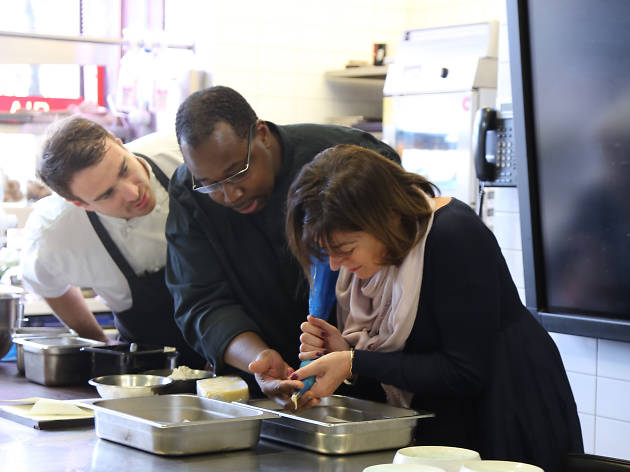 If you're anything like us, you've probably been glued to the telly every weeknight watching the amateur cooks on MasterChef whip out impressive kitchen skills like it's no big deal. You may not find yourself throwing your mid-week dinner in the sous-vide, but you can impress your next dinner party guests with these masterclasses coming up at Press Club Projects.
1. Your Essential Ingredients: Stocks and Sauces masterclass
Get the basics right. This masterclass takes a deeper look into how to achieve perfectly balanced flavours and consistencies. Participants will be making basic stocks and sauces, flavoured oils and pastes; then they'll get a three-course lunch featuring creations from the class for recipe inspiration. Sat Jul 23, $110pp.
2. Seafood in All Its Glory: Seafood masterclass
Take your seafood skills to the next level: learn to source the best product, how to prepare it and the best ways to cook fish and shellfish. Masterclass participants will be taken to the Press Club Project's favourite fishmonger for some fresh seafood, which will be taken back to the experimental kitchen where the chef will show you how to debone, fillet and cook your seafood. The class will be followed by a three-course lunch. Sat Aug 13, $165pp including transport.
3. How to Cook the Perfect Eggs
The egg: such a simple ingredient, so many ways to cook it. In this masterclass, you will see just how many ways you can use the humble egg at home, from mayonnaise to meringues. The class will be followed by a three-course lunch. Sat Sep 10, $110pp.
4. The Sweet Treats masterclass
Nail the perfect dessert by learning to temper chocolate, make ice cream and more. Take some notes at the three-course sweet-themed lunch afterwards for your future dessert projects. Sat Oct 15, $150pp.
5. Oh My Greek masterclass
The Press Club Project's resident Greek Head Chef, Alex Yinis, will host the ultimate Greek cooking masterclass by sharing traditional recipes to the modern riffs on yia yia's favourite dishes that are often seen at George Calombaris's restaurants. Learn to make moussaka and dolmathes, and the Press Club twists, and be sure to save room for the three-course meal after class. Sat Nov 19, $140pp.
6. The Perfect Christmas Feast
Surprise your family and friends on Christmas by learning to make the classics including the perfect roast with all the trimmings, salads and desserts. The masterclass will start with a shop at South Melbourne Market and will be followed by suitably festive lunch to get you into the Christmas mood. Sat Dec 3, $145pp including transport.
All classes run from 11am to 3pm and numbers are limited to 12 people each session. To book a masterclass, call Press Club Projects on 03 9677 9677.
Visit George Calombaris's new restaurant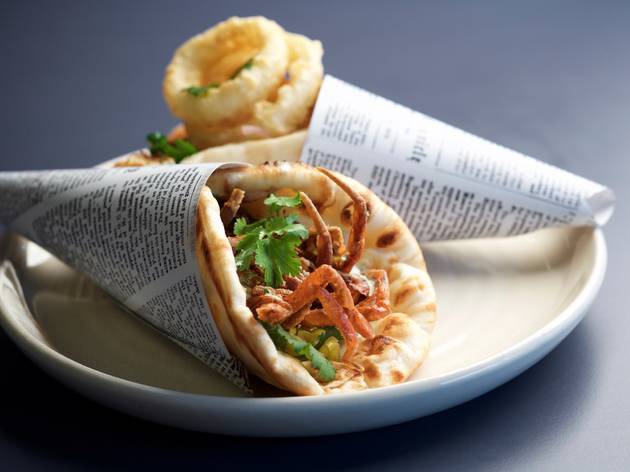 George Calombaris's latest venture in Williamstown isn't the place where you'd stop by for a pint and parma after work with your mates. There are no TVs, no outdoor seating, and only three uncomfortable stools at the bar, so it's barely a pub at all. But if you're after a workday lunch, a school-night feed for the family or a couple of glasses of wine with your favourite grown-ups, Hellenic Hotel has got you wrapped up like a souva. The building is divided into a large downstairs restaurant where you'll probably want to book, and a small upstairs bar with high tables for social drinking. This is touted as the "pub" part, with beer on tap and cheap, pub classic specials (a different one every day) that you won't find on the restaurant menu. Everything on a plate of fish and chips is outstanding from the golden fries, impossibly even in hue, to the lightly battered flathead tails, to the tartare-tzatziki hybrid sauce threaded with fresh dill. This would be a cracker lunch, but the portion size is too small for a dinnertime pub appetite. A single spoonful of neon green (and bloody tasty) mushy peas is so small it's easily mistaken for a dollop of condiment. Same goes for the souvlakia – delicious but probably not enough to constitute dinner. A tender and herb-roasted half chook might tide you over, but you'd need at least one side to make a meal of it, taking you close to $30 for a proper feed. Up here, better off sticking to a pint of Two Birds Golden Ale or a 'Ptoma' - th
More to explore