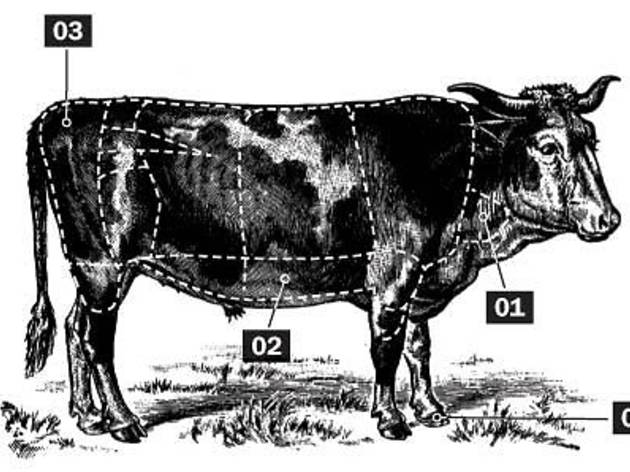 Time Out says
Gerald Diffey and Jonathan Stobbs: purveyors of fine meats
What would you say if we told you there was a meat shop, where on Saturday mornings you could get fresh bacon baps made with slices of cured deliciousness from a rare breed pig and house-made HP sauce? That along with it you could buy a leg of Dorper lamb from the ladies at Plains Paddock? Or a 1.2Kg fillet of beef to make yourself a bistecca Fiorentina (effing big flamed steak, pride of Florence, Italy) from the one breeder of chianina beasts in the country? You'd tell us we were dreaming. That such products (apart from the baps) are only available to chefs. And until now you'd have been right.
Jonathan Stobbs, wine purveyor, and menu writer for many a restaurant noticed that a lot of the cuts on restaurant menus were simply not available on the retail market, and in reaction to this downright travesty, he's teamed up with the only other man in Melbourne as singularly obsessed with a lovely piece of meat as he is: Gerald Diffey. Yes, the same Diffey that owns Gerald's Bar, CBD restaurant Brooks, and newly reinvented fruit and veg shop St Clement's. The man's had a busy year.
The name is derived from a dictionary scour of terms relating to butchery, although it should be noted that no actual hacking goes on here. This is a specialist meat store, not a butchery, but if there is anything animal related you want, be it a Christmas goose, or inner thigh of a unicorn, you can bet your double smoked Croatian ham one of these two will know a guy who can get it. They're like the mafia, for meat.
Expect cooking demos, tasty sausages, English pork pies and a good deal of that šunka ham which will be sliced up on Desdemona – the sleekest piece of slicing machinery this side of Italy.
The addition of Skinner' to the strip, which now hosts two fruit and veg shops, a newly reinvigorated deli, Rathdowne Cellars, and Depot de Pain, makes Rathdowne Village a fully self-contained shopping district once more – so long as you're willing to part with some cash for quality and put put up with more sausage jokes than you can poke a bone at.
Details
Users say