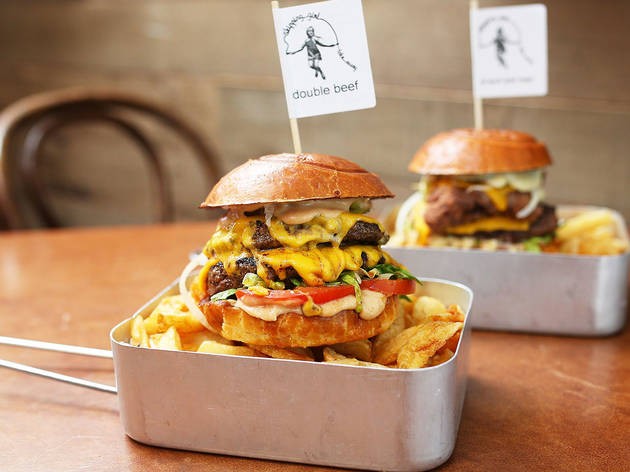 1/8
Photograph: Graham Denholm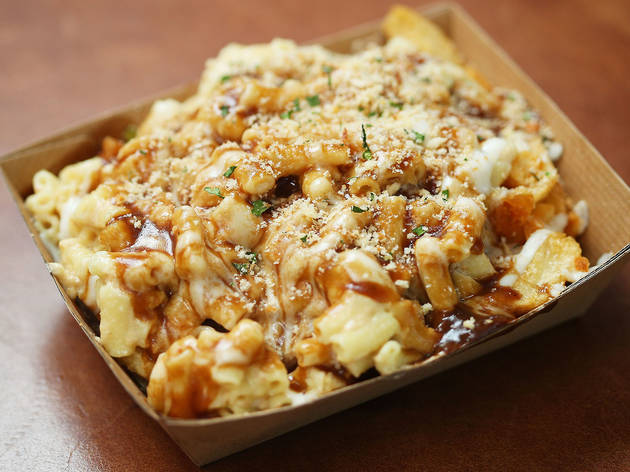 2/8
Photograph: Graham Denholm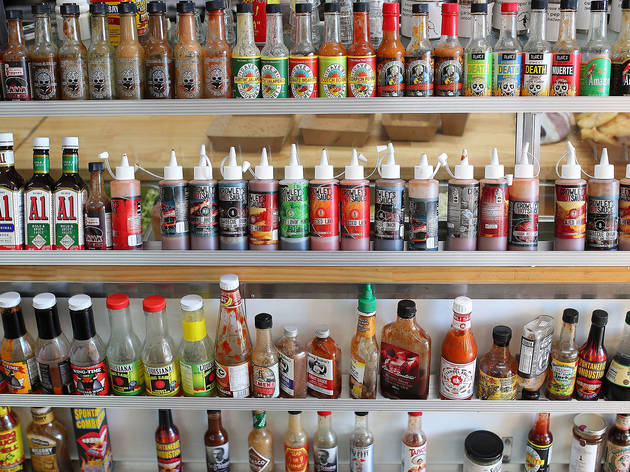 3/8
Photograph: Graham Denholm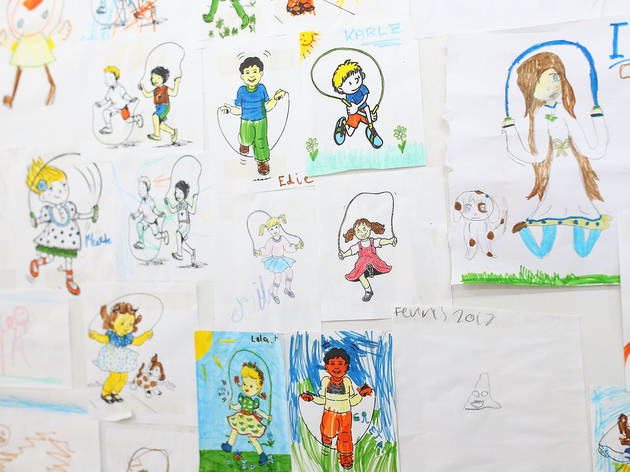 4/8
Photograph: Graham Denholm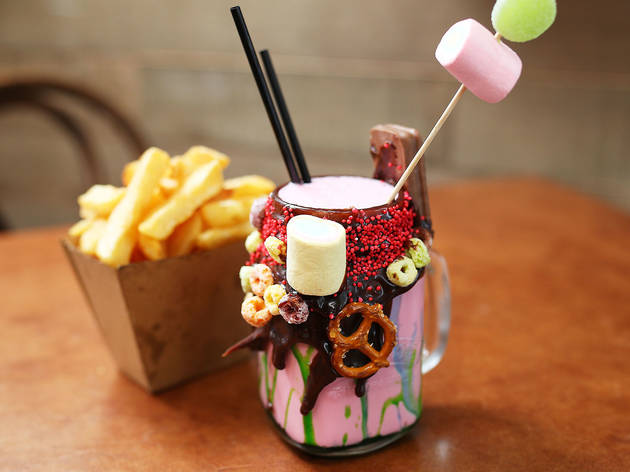 5/8
Photograph: Graham Denholm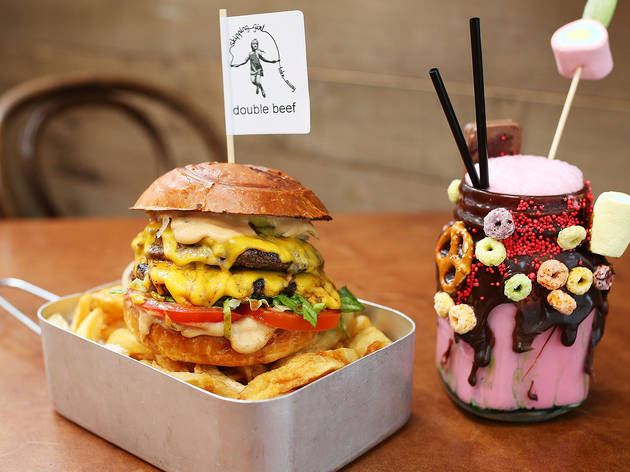 6/8
Photograph: Graham Denholm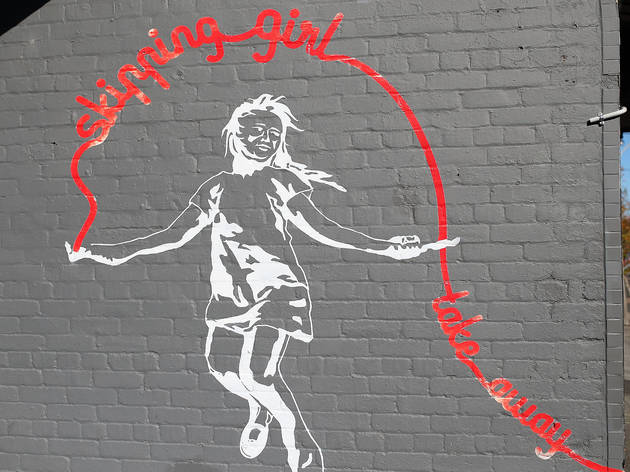 7/8
Photograph: Graham Denholm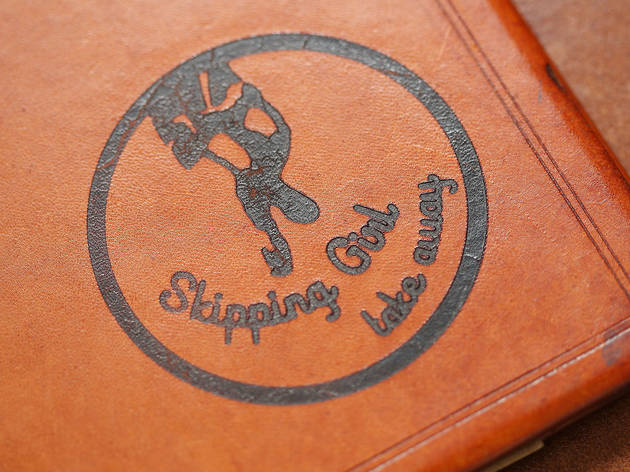 8/8
Photograph: Graham Denholm
Old-school burgers in a retro fit-out are the hot ticket in Abbotsford
The first thing that strikes you when you walk into Melbourne's newest burger joint is the Great Wall of Sauce - more than 100 bottles of liquid flavour, from mild and sweet honey mustard to blistering hot chilli that has enough kick to send you to the moon.
But they're mere accessories to the star attraction, the burgers that require two hands, lots of napkins and one big appetite. In an old-school aluminum chip tray your double beef comes with two juicy patties, cooked medium rare and topped with cheese, tomato, lettuce, onion, and pickles. All in order so far. But the Ef'n Kale burger proves to be a surprising winner. A thick, hearty veggie pattie that's full herbs and earthy with potato, carrots and plump peas comes wearing a juicy stack of wilted kale and a bitey tomato kasundi. Score one, vegetables.
The smoked mac 'n' cheese is a bit of a one-trick pony – it has all the campfire flavour you could wish for, but it overwhelms the cheese. A better bet is the triple cooked, extra crunchy chips.
A chocolate milkshake in a mason jar is more eye candy than taste sensation with a skewer of marshmallow and jelly lollies because even milkshakes get a garnish these days.
The café itself, as they say in diplomatic circles, is 'cosy'; there are four tables inside and seven outside, but it packs a whole lot of '90s ambiance in a small space. The fitout is identical to those beloved fish and chip shops that every Melbourne suburb had in the '80s and '90s. Blasting out of speakers is grunge and hard rock and the walls are casually decorated with images of its namesake, Audrey the Skipping Girl, the famous neon sign that sits atop a roof just around the corner from the café.
It's basic but that's the appeal. The menu is simple - burgers, chips, drinks and a couple of evolving specials. But there's a lot of choice when it comes to what's between your buns - there's the Blue Moon (two wagyu beef patties, blue and cheddar cheese) or maybe the chicken, brined in buttermilk for 48 hours before being deep fried and blanketed in American cheddar. And in spite fof the cheap, throwback vibes they take their produce seriously, using Wagyu from South Australia's Mayura cattle station, which is antibiotic-free and makes for tender, buttery flavoured patties.
Burger competition in Melbourne is stiff, and while Skipping Girl isn't the hot sandwich to rule them all, it will tickle your nostalgia sensors and satisfy your carb cravings in one fell swoop.
Venue name:
Skipping Girl Take Away
Contact:
Address:
70 William St
Abbotsford
3067

Opening hours:
Tue-Sun 10am-9pm