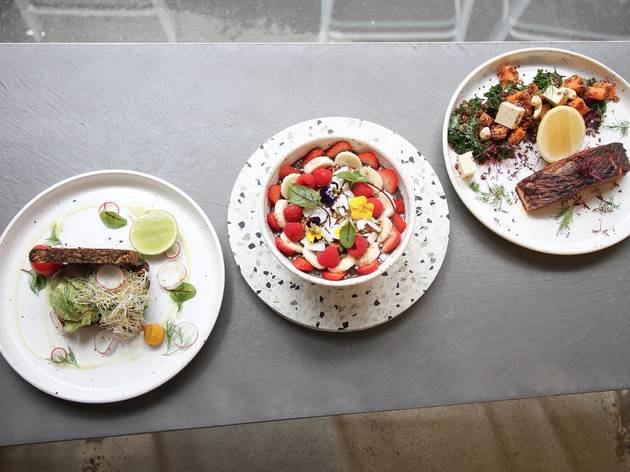 1/8
Photograph: Amanda Summons
2/8
Photograph: Amanda Summons
3/8
Photograph: Amanda Summons
4/8
Photograph: Amanda Summons
5/8
Photograph: Amanda Summons
6/8
Photograph: Amanda Summons
7/8
Photograph: Amanda Summons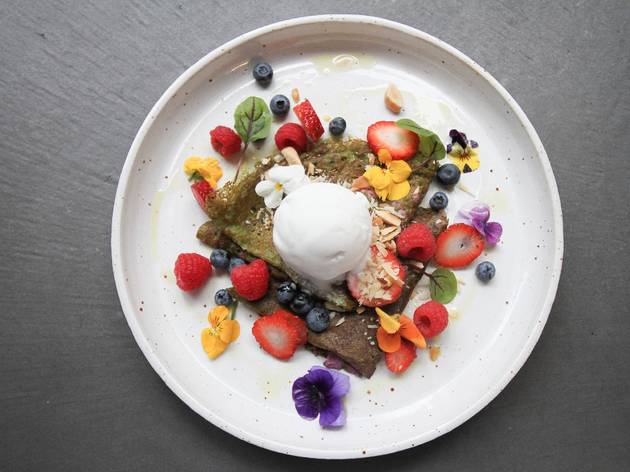 8/8
Photograph: Amanda Summons
A health-conscious Scandi-cool café so chilled that they'll let you mix and match your order, even on weekends
We know what the name of this café might look like to you, so let's clear up a few things first. Smäk means 'to taste' or 'to savour' in Norwegian, and while owners Tom Fissenden and Callum Ellis hail from Geelong, they've clearly taken cues from the Scandinavian nations in designing their health-conscious menu – not to mention the space itself. The South Yarra café wouldn't look out of place in a design magazine; it's all grey concrete, clean lines and blonde timber, lit throughout with minimalist pendant lighting. The smattering of on-trend tropical indoor greenery and the visible hustle and bustle from the open kitchen keeps things from looking too clinical.
On the menu, nearly every dish has at least one serve of vegetables hiding in plain sight. Take, for example, the egg white omelette with pulverised cauliflower rice mixed through, topped with fresh alfalfa sprouts and smashed avocado. You can't actually taste the cauliflower and the texture difference is negligible, yet you're still getting a few more brownie points for your daily vegetable intake. Diners are encouraged to choose from an impressive list of extras, so we opt for a couple of rashers of crunchy bacon (everything in moderation!) and the 'life bread', a surprisingly near-savoury bread dense with pepita and sunflower seeds that we'd be happy to eat unbuttered.
On their website, Fissenden and Ellis claim they "don't care about what's cool or what the next superfood will be". Still, they're much aware of what health-conscious diners want. There are smoothie bowls and fresh juices made daily in-house. The bright green buckwheat crepes with crisp edges, artfully scattered with flower petals and fresh berries, hop on the matcha train. Topped with creamy coconut sorbet and tart lemon curd, the crepes make for a satisfyingly sweet breakfast, but unfortunately, the dish was missing the intriguing biodynamic berry ricotta mentioned on the menu.
The lunch menu is about customisation; you choose your protein and salad. The hickory smoked salmon is spot on with that all-important crisp skin charred just so, and we paired it with the nutty quinoa and kale salad with smoked tofu for extra protein, roasted sweet potato and cashews. A punchy spicy tamarind dressing cuts through the richness of the salmon.
Service is generally pleasant and well-paced, but was a bit patchy on our visit on a busy Saturday morning (our coffee order was forgotten). That said, with this many flavour combinations on the menu, we're returning to Smäk Food House for a second taste.
Venue name:
Smäk Food House
Contact:
Address:
6c Daly Pl
South Yarra
Melbourne
3141

Opening hours:
Mon-Fri 7am-3pm; Sat, Sun 8am-3pm